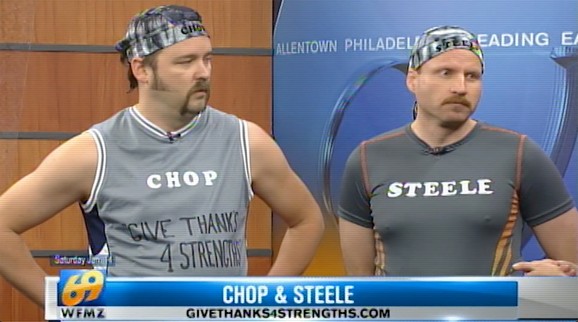 CHOP & STEELE | FOUND FOOTAGE FESTIVAL DOUBLE BILL
IMPORTANT EVENT UPDATE: Due to weather conditions and cancelled flights out of New York, Nick Prueher and Joe Pickett will not be able to join us in Calgary to host tonight's Found Footage Festival event at Globe Cinema. We will still show the documentary CHOP & STEELE as planned at 7:00 PM, with co-director Berndt Mader in attendance. Unfortunately, the Found Footage Festival portion of the Double Bill will be cancelled. Refunds are available upon request.
When: Friday, June 17 at 7:00 PM
Where: Globe Cinema, 617 8 Avenue SW
Tickets: $25 Regular / $23 CUFF Members, Students, Seniors (for both events)
BUY TICKETS
CHOP & STEELE Documentary Screening
USA, 77 minutes
From the award-winning filmmakers behind WINNEBAGO MAN, CHOP & STEELE is a comedy documentary about childhood friends turned professional comedians, Nick Prueher and Joe Pickett, the founders of the Found Footage Festival. When Nick and Joe book their gag strongman routine on unsuspecting morning news shows, their pranks go viral and land them in federal court with a vengeful media conglomerate. The stress of the lawsuit and pressure to continue their pranks threatens their livelihood and tests their lifelong friendship. Will they learn their lesson and hang up the pranks for good? Or will they risk it all in the name of laughs?
Q&A following the screening with CHOP & STEELE Co-Director Berndt Mader, along with Nick Prueher and Joe Pickett from Found Footage Festival.
10 minute intermission

FOUND FOOTAGE FESTIVAL Live Performance – CANCELLED
45 minutes
The Found Footage Festival is back with a brand-new live show hosted by Joe Pickett (The Onion) and Nick Prueher (Late Show). It's a one-of-a-kind event that showcases footage from videos that were found at garage sales and thrift stores and in warehouses and dumpsters. Curators Nick and Joe show their greatest VHS finds, providing live commentary and where-are-they-now updates on the people in these videotaped obscurities. From the curiously-produced industrial training video to the forsaken home movie donated to Goodwill, the Found Footage Festival resurrects these forgotten treasures and serves them up in a lively celebration of all things found.
CHOP & STEELE INFO
Director
Ben Steinbauer & Berndt Mader

Producer
Ben Steinbauer, Katie Steinbauer, Janice Woods, Greta Kovach, Don Swaynos, Mike Saenz

Screenwriter
Alex MacKenzie

Cinematographer
Priest Batten

Editor
Mike Saenz, Alex MacKenzie , Don Swaynos

Executive Producer
Ben Steinbauer, Berndt Mader, Russell Wayne Groves, Jenifer Westphal, Joe Plummer

Cast
Joe Pickett, Nick Prueher, Albertina Rizzo, David Cross, Bobcat Goldthwait, The Yes Men, Reggie Watts, Kurt Braunohler, Davy Rothbart, John Lee, Alyson Levy

Official Selection
Tribeca Film Festival 2022 (World Premiere)
ABOUT THE FOUND FOOTAGE FESTIVAL
The Found Footage Festival was founded in New York in 2004 and has gone on to sell out hundreds of shows across the U.S. and Canada, including the HBO Comedy Festival in Las Vegas, the Just For Laughs Festival in Montreal and the Calgary Underground Film Festival. The festival has been featured on Jimmy Kimmel Live, Late Night with Jimmy Fallon, National Public Radio and has been named a critic's pick in dozens of publications, including The New York Times, Los Angeles Times, San Francisco Chronicle and The Chicago Tribune. The FFF can also be seen twice a week in a popular web series on The Onion's A.V. Club, in the hit documentary "Winnebago Man," and in their book, "VHS: Absurd, Odd and Ridiculous Relics from the Videotape Era."

Joe Pickett and Nick Prueher began collecting found videotapes in 1991 after stumbling across a training video entitled, "Inside and Outside Custodial Duties," at a McDonald's in their home state of Wisconsin. Since then, they have compiled an impressive collection of strange, outrageous and profoundly stupid videos. Pickett, a writer/director, and Prueher, a former researcher at the Late Show with David Letterman, have written for The Onion and Entertainment Weekly and directed the award-winning documentary, DIRTY COUNTRY. With college friend Mark Proksch, they pulled off the Kenny "K-Strass" Strasser yo-yo pranks that hit local morning TV news shows across the Midwest and have since racked up millions of hits on YouTube.