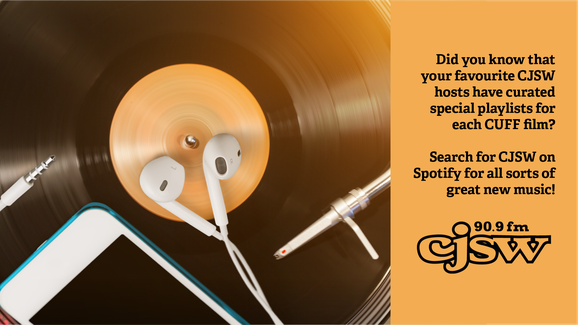 Collaborations: CJSW + CUFF
This year's edition of CUFF is only possible because our community came together to support the festival and helped make our Online Edition so special. Make sure you take a look at our Sponsors & Partners who have supported us during what's such a difficult time for many businesses. Working with our community, there are two collaborations that we're especially excited about.
CJSW PLAYLISTS FOR EVERY FILM
If you've attended CUFF in the past you know that DJs before every film help create a fun festival atmosphere. Our media partners at CJSW have put together Spotify playlists for the films playing this year's festival. Check out the individual film page to see the playlist and DJ for each specific film. Listen to all of the playlists here.
COLLABORATIONS WITH SLED ISLAND
We can't let June 24-28 go by without marking the honourary dates of our sister festival Sled Island, which, like many arts organizations in Calgary, had to cancel this year's fest. We've partnered up with Sled to present the World Premiere of THIS FILM SHOULD NOT EXIST (a documentary about The Oblivians) and will be featuring a series of Sled-curated music videos before our music docs: FIVE BUCKS AT THE DOOR: THE STORY OF CROCKS N ROLLS and THIS FILM SHOULD NOT EXIST. They're also the community partner on one of our drive-in films, UNCLE PECKERHEAD, about a punk-rock band finds themselves on their first tour with a man-eating hillbilly for a roadie. Stay tuned for more details about what Sled is planning for the week that would have been their annual festival.
Watch this space for information about more collaborations with other local businesses and arts groups.