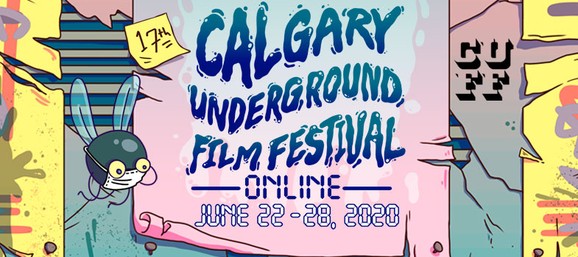 CUFF Online: June 22-28, 2020
We're going online! Elevating Calgary's cultural landscape with the best in international independent cinema, the 17th Calgary Underground Film Festival (originally scheduled for April 20-26) will return in 2020 from June 22-28 as an online festival. Throughout the 7-day online event, you'll discover unique independent and genre films streaming in Alberta for the first time, shorts packages, Q&As with filmmakers, programmer intros before all films, and interactive experiences. The festival will take place on the platform CineSend, and will feature a mix of live events and the ability to stream films on-demand. Special initiatives include two nights of drive-in screenings at Big Rock Brewery on Friday, June 26 and Saturday, June 27, collaborations with Sled Island, and CJSW curated playlists for each film. Films will be closed-captioned or subtitled to make our programming more accessible.
While the festival will look different this year, we're working hard to keep the CUFF experience alive in the virtual world and provide a fun, engaging, unique community experience for our audience, filmmakers and partners.
If you purchased an Early Bird Pass for CUFF 2020, it can be used for our online festival or transferred to CUFF 2021 or CUFF.Docs 2020. Refunds are available on request. ​​​​Your pass will get you access to all films streaming over 7 days, a passholder package including CUFF merch, two Big Rock beers and other treats, and an invite to our passholder secret screening (date TBD). If you have any questions about your 2020 pass please contact cuff@calgaryundergroundfilm.org
Make sure that you're subscribed to our newsletter for updates about CUFF Online 2020. Sign up here.
CUFF 2020 ARTWORK: THE COLOURING SHEET EDITION
Download a PDF or JPG of our 2020 artwork and colour it in yourself. Post your finished artwork on social media and tag us on Facebook: @CalgaryUndergroundFilmFestival, Instagram: @calgaryundergroundfilm or Twitter: @CUFF using #cuffonline. We'll be sharing our favourite entries and giving away a ticket to watch any film playing the online festival. The colouring sheet is available for free, but if you've got a few dollars to spare consider donating to CUFF to help make our online festival happen!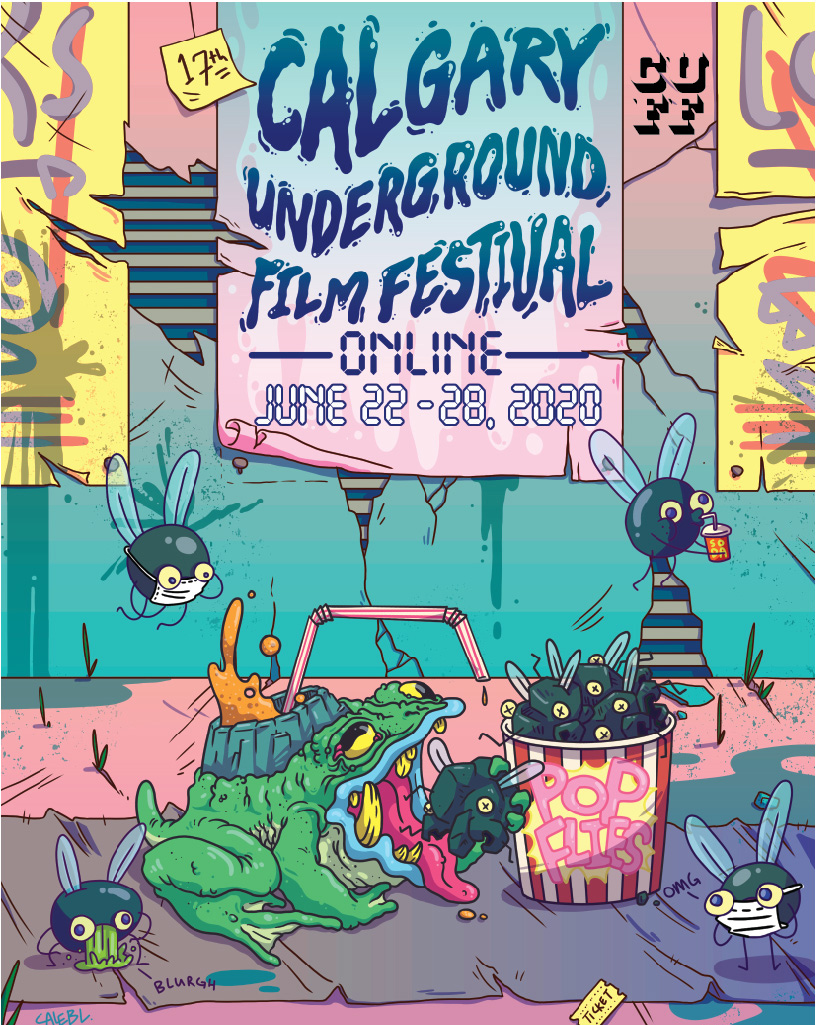 About our 2020 artist: Caleb LaPierre
Emerging from a heap of empty coffee cups and hailing from the luxurious Northern Alberta town of Lac La Biche, Caleb is a mysterious and divine creature of many talents; Illustration and explaining jokes to people who already understand the joke, to name a few. Luckily for all the people around him, he only went to school to polish one of those talents. That school was The Alberta College of Art + Design (or as you may all know it now as The Alberta University of the Arts) where he received honours and multiple awards for his work.
Caleb draws inspiration from stuff he grew up with, like playing outside and being socially awkward, but more importantly: cartoons, movies and video games. So when he got offered the opportunity to design this year's CUFF poster he knew it was his destiny. Caleb's main mission in life is to show the world his weird view of things, bringing the audience's attention to the little gross details that go overlooked in their everyday lives.