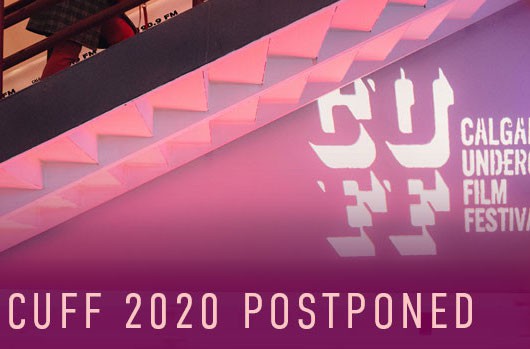 COVID-19 update: CUFF 2020 Postponed
The Calgary Underground Film Festival has made the necessary and heartbreaking decision to postpone our 17th Annual Film Festival (originally scheduled to run April 20-26, 2020) in light of the COVID-19 pandemic and the recommendation from the Alberta government to cancel public gatherings of 250+. Our festival venue, Globe Cinema, has also temporarily closed.
The public health and safety of our audience, filmmakers, volunteers and staff is our top priority.
We will delay making any announcements about the 2020 lineup or further sales until we set new festival dates and receive more directive and advice about the rapidly changing situation. Films that have been selected to be part of CUFF 2020 are still invited, and we will continue to be in touch with all filmmakers once we set new festival dates.
Our two scheduled Off the CUFF screenings (SAINT MAUD on March 31 and YOU DON'T NOMI / SHOWGIRLS on April 11) will be cancelled. We may be able to reschedule these events at a later date. We will offer credit to all ticket buyers to use at a later CUFF event and will process refunds upon request. As an organization that relies on ticket revenue to operate, if you would like to consider donating the cost of your ticket to CUFF, it would mean the world to us. We will be in contact with all ticket buyers directly.
If you have purchased a pass for the festival, we will honour it at CUFF 2020 (dates TBD) or 2021. If you would prefer a refund send us a message at cuff@calgaryundergroundfilm.org
As more information becomes available we will share updates on calgaryundergroundfilm.org, on our social media channels (Facebook, Instagram and Twitter), and through our e-newsletter. You can subscribe to our e-news by signing up here.
We will continue monitoring the situation, working with our festival venue, and keep you – our fans, film festival family and Calgary arts community – informed as we know more.
We know this is a difficult situation for everyone involved in the arts and film community, and we thank you for your continued support during these challenging times.
– Team CUFF