The Overnighters
USA, 2014 : Alberta Premiere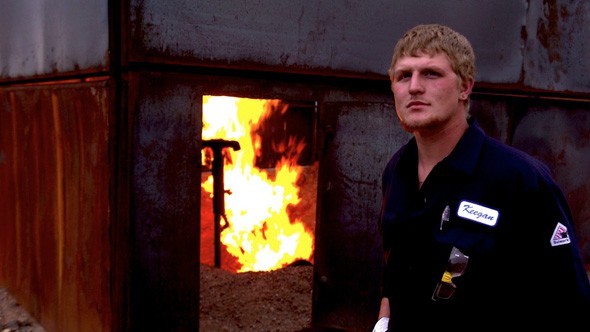 description
Capturing job-seekers desperately chasing the broken American Dream, THE OVERNIGHTERS is an intimate portrait of the tiny oil boom town of Williston, North Dakota. With the town lacking the infrastructure to house the overflow of migrants, a local pastor starts the controversial "overnighters" program, giving down-and-out workers a place to sleep at the church. His well-meaning project immediately runs into resistance with his community, forcing the clergyman to make a decision, which leads to profound consequences that he never imagined.
Following the screening join us at Belfy for the Opening Night Party! Your ticket to THE OVERNIGHTERS will get you entrance to the after party and happy hour prices until 11 PM.
OFFICIAL SELECTION:
Sundance Film Festival 2014
Hot Docs 2014
Tribeca Film Festival 2014
DIRECTOR'S BIOGRAPHY:
Jesse Moss is a Sundance award-winning filmmaker and cinematographer. He produced, directed and photographed THE OVERNIGHTERS, which premiered in the US Documentary Competition at the 2014 Sundance Film Festival, where it was awarded the Special Jury Prize for Intuitive Filmmaking. Previous films include FULL BATTLE RATTLE, which premiered at Berlinale in 2008, won the Special Jury Prize at SXSW, and opened theatrically at the Film Forum in New York.
press for The Overnighters
"Devastating ... one of the most remarkable examples of layered non-fiction storytelling to come along in some time."
- Indiewire
"A shattering experience; a masterwork of unbridled honesty ... An exceptional, haunting film."
- Twitch
screened with a short film

A Tomb With a View
Director Ryan J. Noth, Canada, 2014, 7 minutes
Memorial Necropole Ecumenica is the world's tallest cemetery, elevating its departed occupants considerably closer to heaven rather than entombing them six feet under.
details
18+ Licensed Screening
100 minutes
credits
community
awards
Special Jury Award for Intuitive Filmmaking, Sundance Film Festival 2014
Community Partners