Welcome to Leith
USA, 2015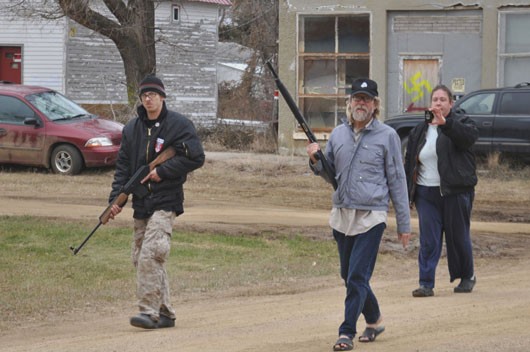 description
Leith, North Dakota is a registered ghost town of 24 people. In 2012, an outsider named Craig Cobb moved in and started buying up property. The notorious white supremacist was plotting a takeover of the city government, and soon a group of fellow white supremacists moved in to aid Cobb in his efforts. As Cobb's behaviour becomes more threatening, tensions soar, and the residents desperately look for ways to expel their unwanted neighbour. Offering a glimpse into a town struggling for sovereignty against one man's extremist vision, WELCOME TO LEITH was filmed in the days leading up to Cobb's arrest for terrorizing the townspeople and his subsequent release from jail six months later.
OFFICIAL SELECTION:
Sundance Film Festival 2015
SXSW 2015
Hot Docs 2015
AFI Docs 2015
DIRECTORS BIO:
Christopher K. Walker is an award-winning filmmaker whose directorial debut WELCOME TO LEITH premiered at the 2015 Sundance Film Festival, going on to screen at SXSW, Hot Docs, AFI Docs, and many others. He also edited and produced FLEX IS KINGS, edited the Columbia duPont award-winning film TRIANGLE: REMEMBERING THE FIRE, and edited the Emmy-nominated HARD TIMES: LOST ON LONG ISLAND for HBO.
Michael Beach Nichols is an award-winning Brooklyn-based filmmaker and recipient of a Jerome Foundation Grant. His critically acclaimed second feature film, WELCOME TO LEITH debuted at the 2015 Sundance Film Festival, before going on to screen at SXSW, Hot Docs, AFI Docs, and many others. His 2013 feature debut FLEX IS KINGS premiered at the Tribeca Film Festival. Previously, he directed the viral short documentary DELIVERY, as well as directed the web series BKLYN FLEX for Ashton Kutcher's Thrash Lab and was part of the Peabody award-winning producing team behind Sundance's 11-hour docuseries BRICK CITY.
press for Welcome to Leith
"A stunning portrait of first amendment rights pushed to their extremes."
- INDIEWIRE
"A gripping you-are-there portrait of a community under siege… as engrossing as a fictional thriller."
- VARIETY
screened with a short film

An Alberta Farm
Canada, 5 Minutes, 2015, Director Brendan O'Brien
Life on a second generation family farm in Alberta highlights the traditional calling that nobly seeks to feed the world. (1st Place Winner, Big Rock Eddies Short Film Festival 2015)
details
18+ Licensed Screening
86 Minutes
credits
Directors
Michael Beach Nichols, Christopher K. Walker
Executive Producers
Julia Willoughby Nason, Stefan Nowicki, Sally Jo Fifer
Producers
Jenner Furst, Joey Carey, Joshua Woltermann
Cinematographer
Michael Beach Nichols
Music
T. Griffin
Editing
Christopher K. Walker, Joshua Woltermann, Michael Beach Nichols
Website
www.welcometoleithfilm.com
Facebook
www.facebook.com/welcometoleithfilm
Twitter
@welcometoleith
community
awards
Winner Documentary Grand Jury Prize, Independent Film Festival Boston 2015
Winner Filmmaker to Filmmaker Award, Hot Docs 2015
Community Partners