Mr. Fish: Cartooning From The Deep End
United States, 2017 : Alberta Premiere
Special Guest!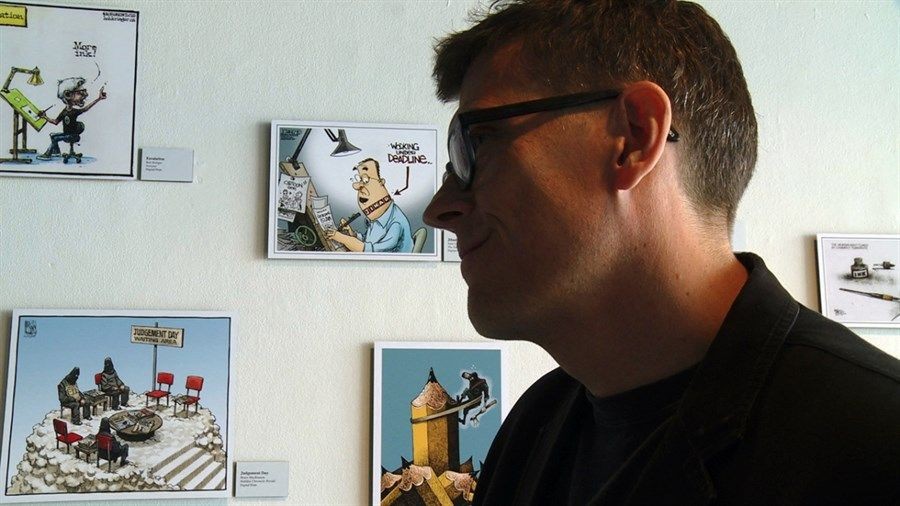 description
A political cartoonist known for his subversive and often controversial art, Mr. Fish's work can be seen in publications such as Harper's, The Nation, The Los Angeles Times, LA Weekly and The Village Voice and sites like truthdig.com. In this intimate and revealing documentary, we are introduced to the dangerously funny cartoonist as he struggles to stay true to his creativity in a world where biting satiric humor has an ever-diminishing commercial value. A brilliantly insightful and timely documentary, CARTOONING FROM THE DEEP END is about the kinds of compromises a radical artist makes (or refuses to make) while trying to live in a traditional society.
OFFICIAL SELECTION
Slamdance Film Festival 2018
Florida Film Festival 2018
HotDocs 2018
Big Sky Documentary Film Festival 2018
Doc NYC 2018
DIRECTOR'S BIO
Pablo Bryant has been the Director of Photography on four feature documentaries and has shot additional photography on many other projects, including HBO's Cinema Verite' , and the documentaryThe Vanishing of the Bees, narrated by Ellen Page. He filmed in India and Nepal for the National Film Board of Canada's Tulku, which aired on CBC television, and finished shooting the documentary Crazy Wisdom in 2010. In addition to his work as a cameraman he has produced, and directed a short documentary about the epidemic of homeless children in the US called Stand Up For Kids. He shot the DVD special features for MADMEN season 4 and 5, and finished shooting on When the Iron Bird Flies in 2012 and Began shooting on a feature documentary called Master Zhou in April 2013.
press for Mr. Fish: Cartooning From The Deep End
"It is everything I live for in an art documentary... a truly fearless artist."
- Ain't It Cool News
details
special guest
Director Pablo Bryant and Dwayne Booth aka Mr.Fish in attendance
credits
community
awards
Winner Grand Jury Award, Best Documentary, Slamdance Film Festival 2018
Winner Audience Award, Austin Film Festival 2017
Winner Special Jury Recognition, Documentary Feature, Ashland Independent Film Festival 2018
Community Partners