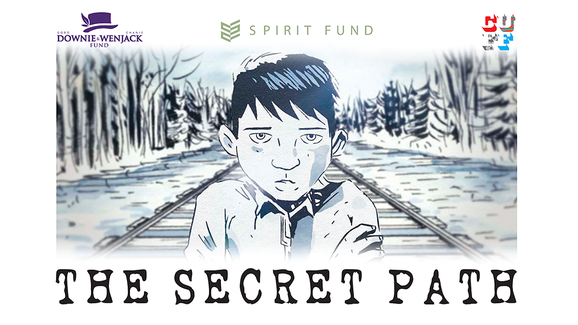 CUFF & Spirit Fund present THE SECRET PATH
The Calgary Underground Film Festival and Spirit Fund proudly present THE SECRET PATH, the animated film adaptation of Gord Downie's album and Jeff Lemire's graphic novel, as part of the Downie Wenjack Secret Path Week
THE SECRET PATH is an animated film adaptation of Gord Downie's album and Jeff Lemire's graphic novel. Working with Downie's poetry and music, Lemire has created a powerful visual representation of the life of Chanie Wenjack. The film is divided into ten chapters, each a song from Downie's musical retelling of Chanie's story – from his escape from the Cecilia Jeffrey Indian Residential School, to his subsequent and heartbreaking death from hunger and exposure to the harsh weather. The final product is a uniquely immersive emotional experience - an insight into the life of a little boy who, as Gord has said, he never knew, "but will always love."

Details
Thursday, October 18 at 7 pm
Globe Cinema, 617 8 Ave SW
Runtime: 60 Minutes
Admission: By donation (suggested $5 minimum) and all door revenue will go to the Downie Wenjack Fund.
RSVP on Eventbrite
RSVP on Facebook

About The Secret Path Week
The Secret Path Week is a national movement commemorating the legacies of Gord Downie and Chanie Wenjack. The Gord Downie and Chanie Wenjack Fund would like to inspire our Legacy Schools, Legacy Space partners, and all Canadians to use this week to answer Gord Downie's call to action, to "do something" by creating a reconciliACTION. A reconciliACTION is any meaningful action that aims to bring Indigenous and non-Indigenous people together in the spirit of reconciliation through education, awareness and understanding.

About the Spirit Fund
The Spirit Fund is a community engagement program with a focus on planting and growing deep roots in the community through sponsorships, education, and other local initiatives.
We created the Spirit Fund to be a responsible leader in the cannabis industry. With the legalization of cannabis in Canada comes the opportunity to support and enrich our communities in new ways.

About CUFF
For 15 years, the Calgary Underground Film Festival has been dedicated to elevating Calgary's cultural landscape with the best in international independent cinema. CUFF is a not-for-profit organization dedicated to programming films that defy convention.
CUFF runs two festivals: Our 7-day festival mid-April (April 22-28, 2019), and CUFF.Docs, Calgary's Documentary Festival (Nov 28 – Dec 2, 2018) in November. We also showcase special event screenings and series throughout the year.