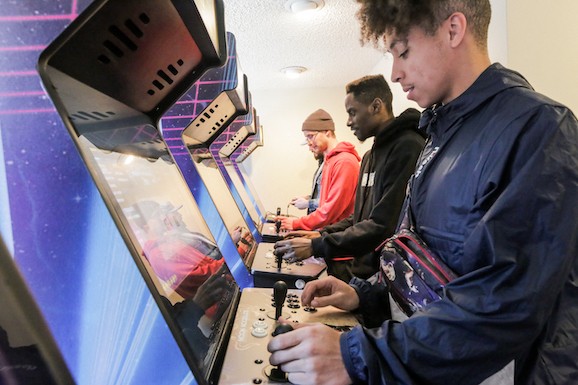 CUFFcade 2022
Calgary's first independent video game arcade with custom-built cabinets!
Each April, the Calgary Underground Film Festival launches five new indie video games that are free to play, and they remain accessible at Globe Cinema throughout the year. These arcade cabinets feature five new, independent video games. CUFFcade is the only curated arcade of its type in Canada. CUFFcade will remain at Globe Cinema throughout the year, and will be free to play.
2022 GAMES
ATRIO: THE DARK WILD by ISTO INC- CALGARY, CANADA
Capture and harness wildlife for your own means. Can you survive long enough to turn the lights back on?
KNIGHTMARE TOWER by JUICY BEAST STUDIO - MONTREAL, CANADA
Break ceilings and rescue princesses as you slash your way to the top of the Knightmare Tower!
RITUAL by UNICORN STUDIOS - CALGARY, CANADA
Can you survive long enough to complete your dark ritual before freezing to death?
GRIS by Nomada Studio - BARCELONA, SPAIN
Gris is a hopeful young girl lost in her own world, dealing with a painful experience in her life.
DISC ROOM by Terri, Dose, Kitty, and JW - GLOBAL DEVELOPMENT TEAM
Are you ready to get sliced in half? The year is 2089 and a giant disc has appeared in orbit of Jupiter. Step into the oversized space suit of a brave scientist and explore this sprawling intergalactic slaughterhouse.
More about CUFFcade
CUFFcade is an initiative which we started in 2015. Each year we will launch a new set of games at the April festival. These custom cabinets that house the games are portable and can be set up at off-season events. If you are interested in CUFFcade being a part of something in particular, please drop us a line! The games are curated by Mike Lohaus.