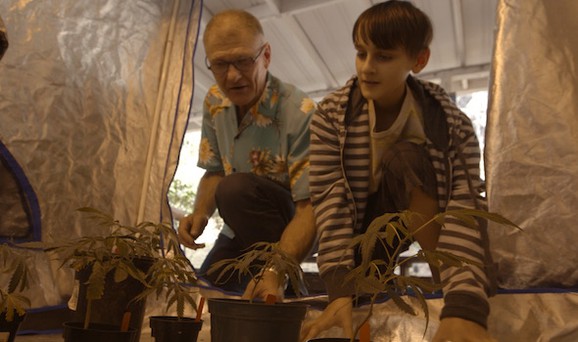 CUFF.Docs Announcement: WEED THE PEOPLE
We're in the final days of locking the lineup for the 6th annual CUFF.Docs, a showcase of the best in non-fiction films running Nov 28 – Dec 2, 2018 at Globe Cinema. But with marijuana legalization on the forefront of Canadians' minds right now, we couldn't keep this one a secret any longer.
First CUFF.Docs 2018 Film Announced: WEED THE PEOPLE
Playing as part of CUFF.Docs, Calgary's Documentary Film Festival, be the first in Canada to see WEED THE PEOPLE, a timely look at the medical benefits of cannabis.
ABOUT THE FILM
WEED THE PEOPLE (2018, Dir. Abby Epstein)
Canadian Premiere
Cannabis has been off-limits to doctors and researchers in the US for the past 80 years, but recently scientists have discovered its anti-cancer properties. Armed with only these laboratory studies, desperate parents obtain cannabis oil from underground sources to save their children from childhood cancers. From Executive Producer Ricki Lake, WEED THE PEOPLE follows these families through uncharted waters as they take their children's survival into their own hands. Some of their miraculous outcomes beget the unsettling question at the heart of the film: If weed is truly saving lives, why doesn't the government want people to access it?
Official Selection
SXSW 2018 (World Premiere)
Nashville Film Festival – Winner Audience Award
DeadCenter Film Festival
"WEED THE PEOPLE presents with grave urgency and convincing logic" – Film Threat
"Groundbreaking... WEED THE PEOPLE sounds like it might be a stoner movie; it is anything but." – The Daily Beast
"WEED THE PEOPLE tugs at heartstrings, avoids the loonies and lets expert researchers give its arguments credibility." – IDA
To be the first to know when tickets to WEED THE PEOPLE go on sale be sure to signup for the CUFF newsletter.
ABOUT CUFF.DOCS
Presented by the Calgary Underground Film Festival, CUFF.Docs is Calgary's five-day documentary festival. The festival screens 13 full-length features, as well as shorts, varying in subject, style and genres within the art form. CUFF.Docs is the perfect place for anyone with the same intrigue and interest in factual content as we have. At CUFF.Docs, the quality of the film is what matters most; we don't book films to make political statements or advocate for particular issues. Instead, we hope to present a range of films that both confirm and challenge beliefs, promoting a sense of wonder and a healthy skepticism, and above all, that continue to advance the medium of documentary filmmaking.