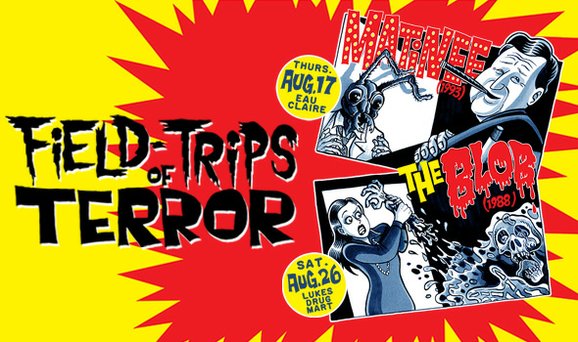 Field Trips of Terror
For our 2017 summer series the Calgary Underground Film Festival is once again presenting FIELD TRIPS OF TERROR. Ride into the unknown and enjoy two CUFF curated films matched perfectly with unconventional screening locations.
MATINEE - Thursday Aug. 17
No Minors
Bus departs at 6:00 pm
BUY BASSBUS TICKETS - Limited Capacity, all attendees must have ticket.

About the film: MATINEE (1993, Dir. Joe Dante)
An affectionate satire of 1960s B-movies. John Goodman plays a William Castle-esque movie producer using every gimmick he can think of to promote the premiere of his new film MANT in Florida as the Cuban Missile Crisis looms.
Watch trailer.

Ticket includes BassBus transportation to Eau Claire Distillery, popcorn and a tour & tasting at Distillery before film. Bus leaves Sunnyside C-Train Station at 6:00 pm, returns at approximately 11:00 pm.

About the location: Eau Claire Distillery
Situated about 35 minutes southwest of downtown Calgary in a historic hamlet, called Turner Valley, discover Eau Claire Distillery. The new distillery is housed in the circa-1929 Turner Valley Movie Theatre and Dance Hall that in early days served as town hall, political rally centre, dance hall and community gathering spot.
THE BLOB - Saturday Aug. 26
Free Entrance, All Ages
Lukes Drug Mart (112 4 St NE, Calgary, AB)
Screening at 9:30 pm

About the film: THE BLOB (1988, Dir. Chuck Russell)
An alien organism arrives in a small California town. It melts and devours townsfolk as it grows to gargantuan size.
Watch trailer.

About the location: Lukes Drug Mart (Bridgeland)
Lukes Drug Mart is the oldest independent pharmacy in Calgary, opening in Bridgeland in 1951. It offers full pharmaceutical services, postal services, groceries, pet care, a coffee bar serving Four Barrel Coffee, vinyl records, apothecary and even clothing basics. They aim to offer everything you need for day to day living as well as some luxuries that make day to day living even more enjoyable.