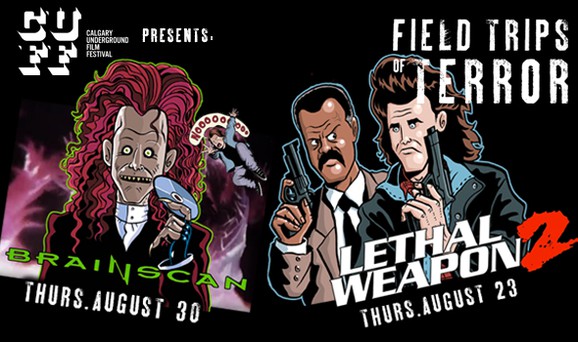 Field Trips of Terror
Join the Calgary Underground Film Festival this August for our annual FIELD TRIPS OF TERROR summer series. Ride into the unknown and enjoy two CUFF curated films matched perfectly with unconventional screening locations.
Field Trip #1: LETHAL WEAPON 2
August 23 @ containR Park
Free entrance, donations appreciated. All ages.
containR in Sunnyside: 1020 2nd Avenue, NW
Film starts at 9 p.m.
About the film: LETHAL WEAPON 2 (Dir. Richard Donner, 1989)
In this edition of the franchise, Riggs and Murtaugh are on the trail of South African diplomats who are using their immunity to engage in criminal activities.
WATCH THE TRAILER
About the venue: Springboard Performance's containR
An art Park made of retrofit shipping containers, Springboard Performance's containR connects communities through art and creative ideas. containR is a distinctly Calgary, vibrant meeting place and an experiment in cultural placemaking.
Field Trip #2: BRAINSCAN
August 30 @ The Rec Room
Drive yourself and pay by donation
The Rec Room: Calgary Deerfoot, 1180 - 901 64 Avenue NE
Join us for pre-film games
Film starts at 8 p.m.

About the film: BRAINSCAN (Dir. John Flynn, 1994)
A teenager is part of an interactive video game where he kills innocent victims. Later, the murders become real.
WATCH THE TRAILER
About the venue: The Rec Room
Featuring Canadian-inspired cuisine, virtual reality, video & redemption games, live entertainment and more, The Rec Room is the place to let go, be playful and experience something new and exciting.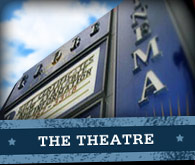 All films take place at Globe Cinema, located at 617 8 Ave SW.
Download the Guide