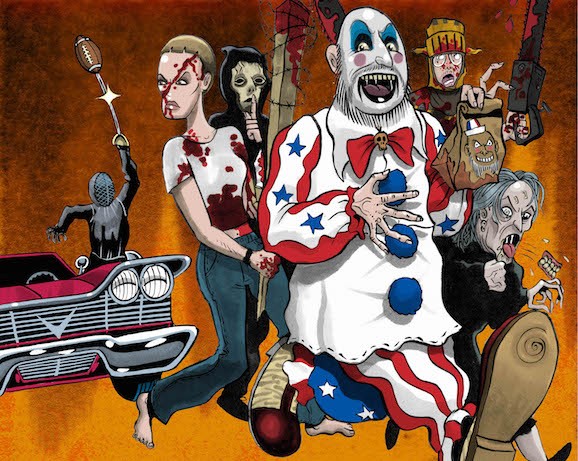 12 Hour Halloween Horror Movie Marathon
The Calgary Underground Film Festival is back with an all-night Horror Movie Marathon the Saturday before Halloween! Join us at Globe Cinema on October 27 for 12 hours of movies, contests and surprises – 7 movies from 7 pm until 7 am the next morning.
You can come for one, come for them all, or drop in and out. But one thing is for sure – you'll laugh, scream and enjoy spending Halloween with fellow CUFF fans.
TICKETS NOW AVAILABLE
$20 regular / $18 members
EVENT DETAILS
Doors at 6 pm, films at 7 pm
Come for one film, or stay for them all
Costume contest at midnight
Giveaways and surprises throughout the night
Bar open through the first four movies

FOOD & CONCESSION
Globe concession will be open and available all night long
Breakfast will be FREE for those who make it until 7 am
Bar is open until 2 am
Cash and credit card for bar and merch / cash only for Globe concession

The films
A mix of favourites and some Halloween themed films, this year's lineup includes:
HELL FEST (2018) at 7 pm
Dir. Gregory Plotkin
On Halloween night, three young women and their respective boyfriends head to Hell Fest – a ghoulish travelling carnival that features a labyrinth of rides, games and mazes. They soon face a bloody night of terror when a masked serial killer turns the horror theme park into his own personal playground. The new slasher-film from editor-turned-director Gregory Plotkin (PARANORMAL ACTIVITY: THE GHOST DIMENSION).
CHRISTINE (1983) at 8:30 pm
Dir. John Carpenter
In the John Carpenter film based on the Stephen King classic novel CHRISTINE, a nerdish boy buys a strange car with an evil mind of its own; eventually, the boy's nature starts to change to reflect his new car.
MURDER PARTY (2007) at 10:30 pm
Dir. Jeremy Saulnier
A random invitation to a Halloween party leads a man into the hands of a rogue collective intent on murdering him for the sake of their art, sparking a bloodbath of mishap, mayhem and hilarity. The first feature film from CUFF-favourite Jeremy Saulnier (BLUE RUIN, GREEN ROOM).
HIGH TENSION (2003) at 12:15 pm
Dir. Alexandre Aja
Best friends Marie and Alexia decide to spend a quiet weekend at Alexia's parents' secluded farmhouse. But on the night of their arrival, the girls' idyllic getaway turns into an endless night of horror. Note: We'll be screening the original dubbed version.
GRADUATION DAY (1981) at 1:50 am
Dir. Herb Freed
A masked killer begins murdering students on the school track team after a track runner dies upon completion of a 30-second 200-meter race.
HOUSE OF 1000 CORPSES (2003) at 3:30 am
Dir. Rob Zombie
Two young couples travelling across the backwoods of Texas searching for urban legends of murder end up as prisoners of a bizarre and sadistic backwater family of serial killers.
DRAG ME TO HELL (2009) at 5:20 am
Dir. Sam Raimi
A loan officer who evicts an old woman from her home finds herself the recipient of a supernatural curse. Desperate, she turns to a seer to try and save her soul, while evil forces work to push her to a breaking point.