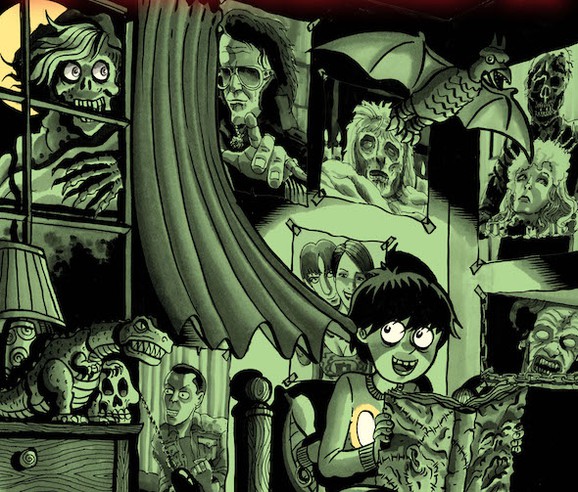 12 Hour Halloween Movie Marathon
Do you have it in you? The Calgary Underground Film Festival is back with an all-night Horror Movie Marathon the Saturday before Halloween! Head to Globe Cinema on October 26 for 12 hours of movies, contests and more – 7 movies from 7 pm until 7 am the next morning. You can come for one, come for them all, or drop in and out. There's no better way to prove that you're a true horror film fanatic.
EVENT DETAILS
Doors at 6 pm, films at 7 pm
Come for one film, or stay for them all
Costume contest at midnight
Giveaways and surprises throughout the night
Bar open through the first four movies
Tickets: $20 regular / $18 members, students & seniors
BUY TICKETS NOW
Food & Concession
Globe concession will be open and available all night long
Free breakfast served before the final film at 5am
Bar is open until 2 am
Cash and credit card for bar and merch / cash only for Globe concession

THE FILM LINEUP
EXTRA ORDINARY (2019)
Dir. Mike Ahern and Enda Loughman
7pm
Rose, a sweet lonely driving instructor in rural Ireland, is gifted with supernatural abilities. Rose has a love/hate relationship with her talents and ignores the constant spirit related requests from locals. But when a washed-up, one-hit-wonder rock star, makes a pact with the devil he puts a spell on a local teenager. Her terrified father asks Rose to help save his daughter, and she can't resist. Rose has to overcome the fear of her supernatural gift to save the girl, get the guy and be home in time for a light snack. Being called a "tea-cosy GHOSTBUSTERS" this off-kilter comedy took home the Audience Award at Sitges and was nominated for the SXSW Grand Jury Award.

THE EVIL DEAD (1981)
Dir. Sam Raimi
8:45pm
Five friends travel to a cabin in the woods, where they unknowingly release flesh-possessing demons. A new 4k restoration of Sam Raimi's 1981 classic with a reimagined score by original composer Joseph LoDuca.
BUBBA HO-TEP (2002)
Dir. Don Coscarelli
10:15pm
Elvis Presley and a black "JFK" stay in a nursing home where nothing happens – until a wayward Egyptian mummy comes and sucks out the old people's souls thru their a-holes. The two decide to fight back. A cult classic, this American comedy horror stars Bruce Campbell as Elvis Presley.
FRIDAY THE 13TH PART 2 (1981)
Dir. Steve Miner
12:15am
Mrs. Voorhees is dead, and Camp Crystal Lake is shut down, but a camp next to the infamous place is stalked by an unknown assailant. A direct sequel to FRIDAY THE 13TH, the American slasher picks up five years after that film's conclusion. Produced and directed by Steve Miner in his directorial debut.
THE SLUMBER PARTY MASSACRE (1982)
Dir. Amy Holden Jones
1:45am
A high school student's slumber party turns terrifying as an escaped mental patient with a drill decides to crash the evening. The first horror franchise in history whose films were directed exclusively by women, the first film blends elements of humour and horror.
IDLE HANDS (1999)
Dir. Rodman Flender
3:15am
A teenage slacker's right hand becomes possessed with murderous intent. The horror-comedy stars Devon Sawa, Seth Green, Elden Henson, Jessica Alba, and Vivica A. Fox and now rises as one of the great cult films of the late '90s.
CREEPSHOW (1982)
Dir. George A. Romero
5am
The American anthology tells five terrifying tales based on the E.C. horror comic books of the 1950s. The horror-comedy is Stephen King's screenwriting debut.
All film start times are approximate. Hey, it's a 12-hour marathon, we might be running a few minutes late. If there's a film that you don't want to miss the beginning of we recommend arriving approximately 15 minutes before the suggested start time. 10 minute intermission between all films.