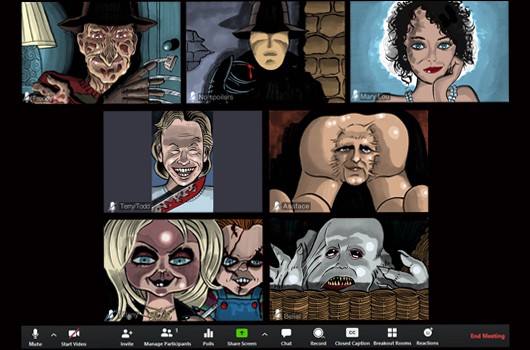 12 Hour Halloween Movie Marathon
On Halloween, we're back at Globe Cinema for CUFF's annual 12 Hour Horror Movie Marathon. 7 movies from 7pm until 7am the next morning, including a costume contest, and other surprises throughout the evening.
When: Saturday, October 31 @ 7pm
Where: Globe Cinema (617 8 Ave SW)
Tickets: $20 regular / $18 members, students & seniors
BUY TICKETS NOW
Capacity at Globe Cinema will be reduced to 20% (75 seats per cinema) – we will be using both the upstairs and downstairs cinemas. All health and safety protocols set by Globe Cinema will be strictly enforced. Attendees must wear a mask inside the building, social distancing etiquette must be followed, and only Debit, Visa, and Mastercard will be accepted at the concession. Please read Globe Cinema's rules & regulations before arriving. Please note that this year's Halloween event is in-cinema only. If you'd like to participate from home, many of these films are available to rent or purchase for at-home viewing.
EVENT DETAILS
Doors at 6 pm, the first film starts at 7pm
Come for one film, or stay for them all
Costume contest at midnight
Giveaways and surprises throughout the night
Bar open through the first four movies
Food & Concession
Only Debit, Visa, and Mastercard will be accepted
Globe concession will be open and available all night long
Free breakfast served before the final film at 5am
Bar is open until 2am
The film lineup
A NIGHTMARE ON ELM STREET 3: DREAM WARRIORS (1987) at 7pm
A psychiatrist familiar with knife-wielding dream demon Freddy Krueger helps teens at a mental hospital battle the killer who is invading their dreams.
BLOOD AND BLACK LACE (1964) at 8:45pm
A masked, shadowy killer brutally murders the models of a scandalous fashion house in Rome.
BRIDE OF CHUCKY (1998) at 10:15pm
Chucky, the doll possessed by a serial killer, discovers the perfect mate to kill and revive into the body of another doll.
Costume contest at midnight
HELLO MARY LOU: PROM NIGHT II (1987) at 12am
Thirty years after her accidental death at her 1957 senior prom, the tortured spirit of prom queen Mary Lou Maloney returns to seek revenge.
SOCIETY (1989) at 2am
An ordinary teenage boy discovers his family is part of a gruesome orgy cult for the social elite.
BLOOD RAGE (1987) at 3:45am
As kids, Todd is institutionalized for a murder whilst his twin goes free. 10 years later, on Thanksgiving, Todd escapes and a killing spree begins in his neighbourhood.
Breakfast at 5am
BASKET CASE (1982) at 5:15am
A young man carrying a big basket that contains his extremely deformed Siamese-twin brother seeks vengeance on the doctors who separated them against their will.
All film start times are approximate. Hey, it's a 12-hour marathon, we might be running a few minutes late. If there's a film that you don't want to miss the beginning of we recommend arriving approximately 15 minutes before the suggested start time. There will be a 10-minute intermission between all films.