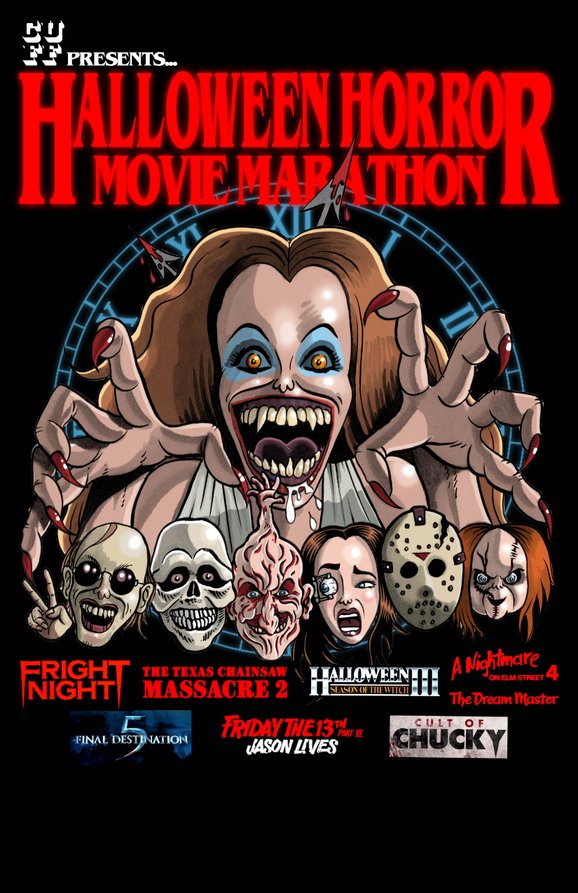 Halloween Movie Marathon
Join the Calgary Underground Film Festival for an all night Horror Movie Marathon! We are presenting 12 hours of movies, contests and surprises. Join us for 7 movies from 7 pm on October 28 until 7 am the next morning.
This year our Halloween marathon is our favourite selections from horror franchises, in numeric order. Line-up includes FRIGHT NIGHT (1985), TEXAS CHAINSAW MASSACRE 2, HALLOWEEN 3: SEASON OF THE WITCH, A NIGHTMARE ON ELM STREET 4: THE DREAM MASTER, FINAL DESTINATION 5, JASON LIVES: FRIDAY THE 13TH PART VI, and CULT OF CHUCKY (the new, 7th film in CHILD'S PLAY series)
There will be a costume contest at midnight. Giveaways and surprises throughout the night.
Admission restricted to 18+. Alcohol service through first four movies.
Tickets are $20 Regular / $18 for CUFF Members.

FOOD & CONCESSION:
*Globe concession will be open and available all night long.
*Breakfast will be FREE for those who make it until 7am.
*Bar - Open until 2am

We will accept cash or credit card for bar and merchandise.

Cash only for Globe Concession.
Screening Saturday October 28 7:00pm at Globe Cinema (617 8 Ave SW)
Scheduled Start Times
FRIGHT NIGHT 7:00 pm
TEXAS CHAINSAW MASSACRE 2 8:46 pm
HALLOWEEN 3: SEASON OF THE WITCH 10:27 pm
-Costume Contest- 12:05 am
A NIGHTMARE ON ELM STREET 4: THE DREAM MASTER 12:25 am
FINAL DESTINATION 5 1:58 am
JASON LIVES: FRIDAY THE 13TH PART VI 3:30 am
-Breakfast Served-
CULT OF CHUCKY 5:16 am

ADVANCE TICKETS - $20 Regular/$18 Members