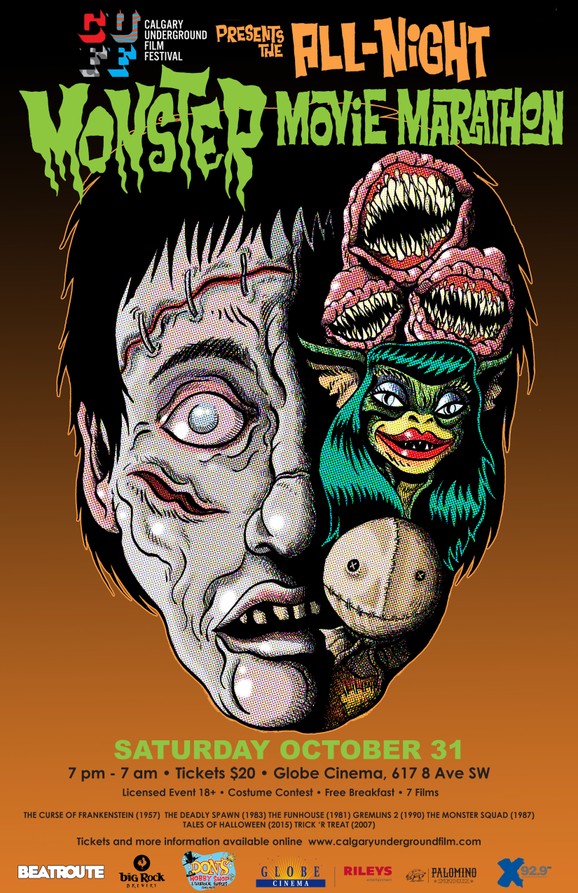 Monster Movie Marathon
This Halloween, join the Calgary Underground Film Festival for an all night Monster Movie Marathon! We are presenting 12 hours of movies, contests and surprises. Join us for 7 movies from 7 pm on Halloween until 7 am the next morning.
We kick off with the new anthology horror film TALES OF HALLOWEEN!! Line-up includes GREMLINS 2, TRICK R TREAT, CURSE OF FRANKENSTEIN, THE MONSTER SQUAD, THE FUNHOUSE and THE DEADLY SPAWN!
There will be a costume contest at midnight. Giveaways and surprises throughout the night.
Admission restricted to 18+. Alcohol service through first four movies.
Tickets are $20 Regular / $18 for CUFF Members.

Catering by The Palomino Smokehouse:
Pulled Pork Sandwiches & Beef Brisket on a Bun
* Available approximately 6:30pm - 9pm (or while supplies last)

Sponsors are: Big Rock Brewery, Red Bull, Don's Hobby Shop, Globe Cinema + (more to be announced)

FOOD & CONCESSION:
*Globe concession will be open and available all night long.
*Breakfast will be FREE for those who make it until 7am.
*Bar - Open until 2am

We will accept cash or credit card for bar, merchandise and Palomino catering.

Cash only for Globe Concession.
Screening Saturday October 31 7:00pm at Globe Cinema (617 8 Ave SW)
Scheduled Start Times
TALES OF HALLOWEEN 7:00 pm
THE CURSE OF FRANKENSTEIN 8:42 pm
THE FUNHOUSE 10:15 pm
-Costume Contest- 11:50 pm
GREMLINS 2 12:16 am
TRICK R TREAT 2:12 am
THE DEADLY SPAWN 3:44 am
-Breakfast Served-
MONSTER SQUAD 5:15 am
ADVANCE TICKETS - $20 Regular/$18 Members