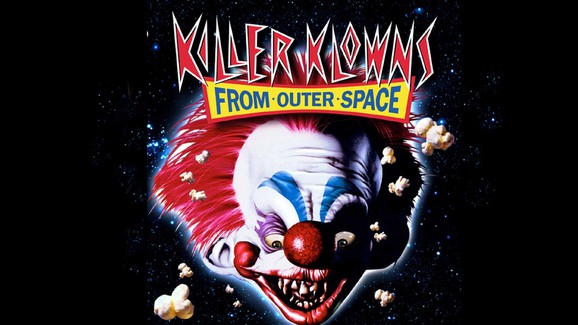 Movie Night at Murdoch Park
RISE UP Weekend and Calgary Underground Film Festival present Movie Night at Murdoch Park
On August 21, we're going Off the CUFF and hosting a free screening of KILLER KLOWNS FROM OUTER SPACE at Murdoch Park in Bridgeland. The outdoor all-ages event sponsored by RISE UP Calgary and Lukes Drug Mart includes a live DJ set followed by a movie in the park. The event is free, but register for a free ticket to enter our draw and win a free CUFF picnic blanket!
THE DETAILS
Date: Saturday, August 21
Location: Murdoch Park (9 St NE & Centre Ave NE)
Time: Live DJ Set from CJSW's Jett Thunders at 8:30pm
Movie: KILLER KLOWNS FROM OUTER SPACE at 9:30pm
ABOUT THE MOVIE: KILLER KLOWNS FROM OUTER SPACE (1988)
Director: Stephen Chiodo
Runtime: 88 min
KILLER KLOWNS FROM OUTER SPACE is a 1988 American science fiction horror comedy written, directed and produced by the Chiodo Brothers, and starring Grant Cramer, Suzanne Snyder, John Allen Nelson and John Vernon. When a small town is invaded by aliens from outer space who are capturing and killing the townspeople, no one takes them seriously. Why? The aliens all look like circus clowns, use weapons that look clown like, and all have painted on smiles. Only a few of the young people in the town realize the danger and of course no one believes them. Armed with an ice cream truck they try and rescue their friends.
KILLER KLOWNS FROM OUTER SPACE is preceded by a short film presented by our friends at Quickdraw Animation Society.
"KILLER KLOWNS FROM OUTER SPACE is a fun and occasionally unsettling cult film that is well worth a watch for B movie enthusiasts or horror fans." – The Movie Sleuth
Click here to register for your free ticket. Walk-ups are accepted as well.
ABOUT THE EVENT
This event has been made possible with funding from RISE UP Calgary, an initiative to kickstart the arts industry's recovery, connecting Calgarians to safety-conscious live experiences and events and supporting local artists and businesses who have struggled through COVID-19.