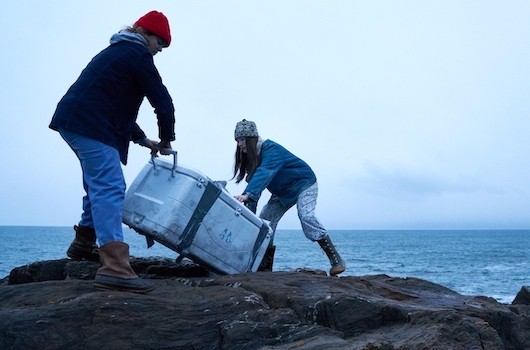 Off the CUFF: BLOW THE MAN DOWN
First-time filmmakers Danielle Krudy and Bridget Savage Cole direct the female-centric neo-noir about two sisters who conceal a crime and discover dark secrets about their town in the process.
When: Tuesday, March 3 @ 7:00 pm
Where: Globe Cinema (617 8 Ave SW)
Tickets: $10 ($8 members / students / seniors)
BUY TICKETS
DETAILS
USA, 2019, 91 minutes
SYNOPSIS
Welcome to Easter Cove, a salty fishing village on the far reaches of Maine's rocky coast. Grieving the loss of their mother and facing an uncertain future, Mary Beth and Priscilla Connolly cover up a gruesome run-in with a dangerous man. To conceal their crime, the sisters must go deeper into Easter Cove's underbelly and uncover the town matriarchs' darkest secrets.
CREDITS
Directors: Bridget Savage Cole, Danielle Krudy
Cast: Morgan Saylor, Sophie Lowe, Margo Martindale, June Squibb, Will Brittain, Gayle Rankin, Annette O'Toole
Cinematography: Todd Banhazl
Editing: Marc Vives
Executive Producers: Albert Berger, Ron Yerxa, Lucas Joaquin
Producers: Drew Houpt, Alex Scharfman, Tim Headington, Lia Buman
OFFICIAL SELECTION
Tribeca Film Festival 2019
Toronto International Film Festival 2019
"A chillingly savage debut feature from co-directors and screenwriters Bridget Savage Cole and Danielle Krudy that makes a strong case for them to be the heirs to the Coen Brothers' wintry crime drama throne." – Slashfilm
"This atmospheric, expertly crafted little New England noir has droll dialogue, a female empowerment theme and a sly use of crime elements." – The Hollywood Reporter
OFF THE CUFF is a year-round series presented by the Calgary Underground Film Festival. For those films we just can't make work with our festival dates, we go off the CUFF.