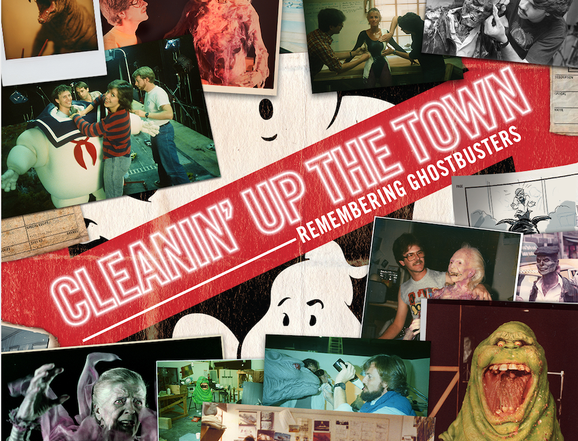 Off the CUFF: CLEANIN' UP THE TOWN: REMEMBERING GHOSTBUSTERS
To celebrate the filming of GHOSTBUSTERS 3 in Calgary, the Calgary Underground Film Festival presents an Off the CUFF screening of CLEANIN' UP THE TOWN: REMEMBERING GHOSTBUSTERS, a documentary about the making of the 1984 classic.
When: Monday, Oct 7 @ 7:00 pm
Where: Globe Cinema (617 8 Ave SW)
Tickets: $10 ($8 members / students / seniors)
BUY TICKETS
SYNOPSIS
Lovers of film and film history, brother and sister team, filmmaker Anthony Bueno and film presenter Claire Bueno set off on a journey 10 years ago to tell an honest, unbiased story of how Ghostbusters came to fruition from inception through to production. CLEANIN' UP THE TOWN: REMEMBERING GHOSTBUSTERS delivers the most complete account of how these classic films were made and the doc sits down with 30+ members of the cast and crew responsible for bringing these stories to life including actors Dan Aykroyd, Harold Ramis, Ernie Hudson and Sigourney Weaver, director Ivan Reitman, producers Joe Medjuck and Michael C. Gross, visual effects crew including Richard Edlund and John Bruno.
Made in 1984 in the pre-digital age when special effects were still evolving, GHOSTBUSTERS was an instant hit followed up five years later with GHOSTBUSTERS 2. Now with a string of spin-offs from cartoons, video games to the new female-led GHOSTBUSTERS, the feature-length documentary explores why the love of GHOSTBUSTERS has lasted over 30 years and sparked the imagination of so many.
Filmmakers Anthony and Claire Bueno in attendance; Q&A moderated by Christopher Stewart, GHOSTBUSTERS buff and co-host of the Ghostbusters Interdimensional Crossrip Podcast. Our friends from Alberta Ghostbusters will be on site with some special surprises for the audience.
CREDITS
Director: Anthony Bueno
Writers: Anthony Bueno, Claire Bueno
Featuring: Sigourney Weaver, Annie Potts, Dan Aykroyd
OFF THE CUFF is a year-round series presented by the Calgary Underground Film Festival. For those films we just couldn't make work with our festival dates, we go off the CUFF.