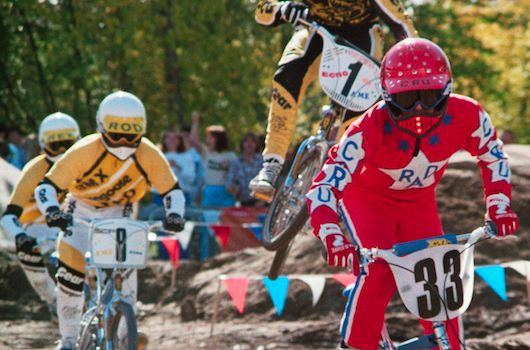 Off the CUFF Drive & Bike-In: RAD 4K Restoration
9 years after CUFF hosted the 25th Anniversary celebrations of the Alberta-shot cult classic, we're presenting drive and bike-in events of the new RAD 4K Restoration.
When: Saturday, August 29 & Sunday, August 30
Where: Crossroads Market (more details about access to the lot will be emailed to ticketholders)
Tickets: $30 per car OR bike spot (spot valid for up to three bikes – please bring your own chairs or seating)
BUY SATURDAY TICKETS / BUY SUNDAY TICKETS
Sponsored by Calgary BMX
DETAILS
USA, 1986 (2020 restoration), 91 min
CUFF is showing a Digital DCP presentation of the new restoration
SYNOPSIS
A BMX racer who lives in a small town with his mother and sister is faced with a tough decision, qualify for Helltrack or take his SAT's in order to attend college. The bicycle-motocrosser enters a corrupt promoter's nationally televised cash-prize race in Hal Needham's RAD 4K Restoration.

The 1986 film is synonymous with '80s BMX culture. Shot in and around Calgary and Cochrane, Alberta, RAD was shot locally, produced independently, and ground-breaking in its innovation of story and subject. Lifelong fans quote it in online bike forums. They petitioned for a DVD release. They even bid on collector shoes and fought over out-of-print soundtracks. And they still turn out to meet its stars, both the actors and the riders.
CREDITS
Director: Hal Needham
Writers: Sam Bernard, Geoffrey Edwards
Stars: Bart Conner, Lori Loughlin, Bill Allen
OFFICIAL SELECTION
SXSW 2020
Listen to the pre-show CJSW curated playlist on Spotify
DIRECTOR BIO
Hal Brett Needham was a legendary American stuntman, film director, actor and writer. He worked as a stunt performer on more than 30 films, eventually earning the status as Hollywood's highest paid stuntman. In his biography, he boasted that he "broke 56 bones, my back twice, punctured a lung and knocked out a few teeth." Best known for his frequent collaborations with actor Burt Reynolds, such as Smokey and the Bandit, Hooper, The Cannonball Run and Stroker Ace, Hal branched out beyond stunt performing. He moved on to direct films that involved action, risk, and fast cars. In 2012, Needham was awarded a Governor's Award by the Academy of Motion Pictures Arts and Sciences, where he was introduced by Quentin Tarantino. While accepting his trophy, he told the audience, "You know, you're looking at the luckiest man alive. And lucky to be alive."
DRIVE-IN DETAILS
The health and safety of our audience and staff is our top priority. These events are held in accordance with Alberta Health Services health and safety protocol. Advance online sales only – we will not be selling tickets at the event.
MOST IMPORTANT
Do not come to the event if you are symptomatic, have been in close contact with anyone infected or someone who is symptomatic, has travelled outside of Canada recently or if you believe you may have been exposed to COVID-19. All attendees in a single vehicle should be from the same household or cohort family.
CONCESSION AVAILABLE ON SITE
Snacks and non-alcoholic drinks will be available for purchase.
STAY SAFE – STAY IN YOUR ASSIGNED SPOT
Alberta Health Services rules state that you must stay in your vehicle for the entire duration of the event. While there will be a washroom on site, we ask that you plan ahead and only use it if necessary. AHS has identified public washrooms as a high-risk place for transmission, so we ask where possible you limit the spread. Washrooms will be one at a time, and if there is a line up social distancing will be strongly enforced. Masks are mandatory when you are out of your vehicle. Follow all posted rules and regulations and return to your vehicle immediately after. If you bike to the event you must stay in the stall assigned to you. You can have up to three bikes per spot, but please bring your own seating.
VEHICLE SIZE RESTRICTIONS IN PLACE
To ensure proper site-lines, please don't rock up in a motor-home, RV or passenger van. If your vehicle is over-sized, such as a truck, you'll be directed to park near the back of the lot.
WASHROOMS
In accordance with AHS guidelines, a washroom will be available on site. The washrooms are single-use, please keep two metres apart.
PARKING
More details about when the lot will open and instructions about how to enter will be emailed out in advance of the event. Our staff and volunteers will guide you to park your car in a set spot. When exiting please be patient as the cars need to exit single file.
WEATHER
Unless there are extreme winds, we are able to proceed with our drive-in screens, even if it rains. If the event is cancelled we will send an email to all ticketholders and reschedule it for another date. We know the weather can change in a minute. If you need to use your heat, windshield wipers or AC during the screening, please do not idle your vehicle.
FM RADIO REQUIRED
You must have an FM radio in your car to hear the film's audio. Sound will be provided for those who are not watching from a vehicle.
If you have any questions or concerns please email cuff@calgaryundergroundfilm.org