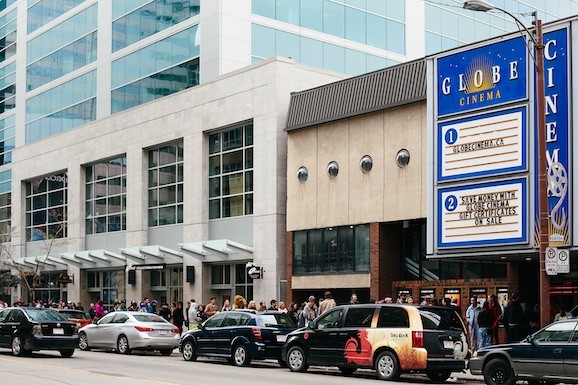 Parking
If you're looking to park near Globe Cinema during the Calgary Underground Film Festival here are the most budget-friendly options.
Centennial Parking
Located behind Globe Cinema on 9th Ave, parking costs $3 on weekday evenings after 6 pm and $3 for the full day on weekends. Note: The parkade is locked from 9 pm and 5:30 am (seven days a week) and you must use one of the intercoms located outside the 5th and 6th Street lobbies to connect with dispatch to get into the lot after 9 pm. More information
Lot 66
Located between 7th and 8th St on 9th Ave, Lot 66 offers more affordable daytime parking. Pay $3/ per 1/2 hour to a maximum of $15. More information
Street Parking
There is limited paid street parking on 8 Ave outside Globe Cinema between 5th and 6th St SW. Maximum stay of 2 hours and rates are $4.25 per hour between 1:30 - 6 pm on weekdays and $1 per hour on Saturdays between 9 am - 6 pm. Street parking is free after 6 pm and on Sundays but note that street parking is hard to come by during CUFF. More information
If transit is an option for you, Globe Cinema is located on 8th Avenue SW between 5th and 6th street, one block from the 6th street LRT station.​​