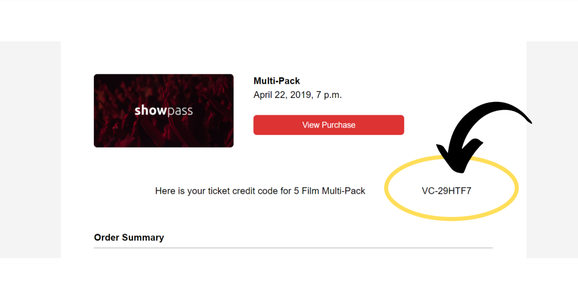 How to Redeem Your Multi-Pack
If you have purchased a multi-pack already, you will need to now select/ claim your individual film tickets.
HOW TO CLAIM / REDEEM YOUR INDIVIDUAL FILM TICKETS ONCE THE PACK IS PURCHASED:
Please claim tickets in advance. (this applies to both online screenings and/or when we are back in-cinema)
From our FILM LIST - select the film(s) you want to see.
Add General Admission tickets to your cart. (please only use the $10 ticket option)
Apply your Voucher Code that was sent in your multi-pack confirmation email from ShowPass (starts with VC) as a discount/promo code.
You will be emailed streaming links for each film you have claimed tickets to watch.
The streaming link is a watch.calgaryundergroundfilm.org/968787878 type code. (has 9 digits after the URL)
Is APPLE TV or ROKU your preference for viewing? Enter the same 9 digit numeric code on your Apple or Roku for it work.
For more FAQ please go here: https://www.calgaryundergroundfilm.org/online-faqs
For box office support, please email: boxoffice[at]calgaryundergroundfilm.org