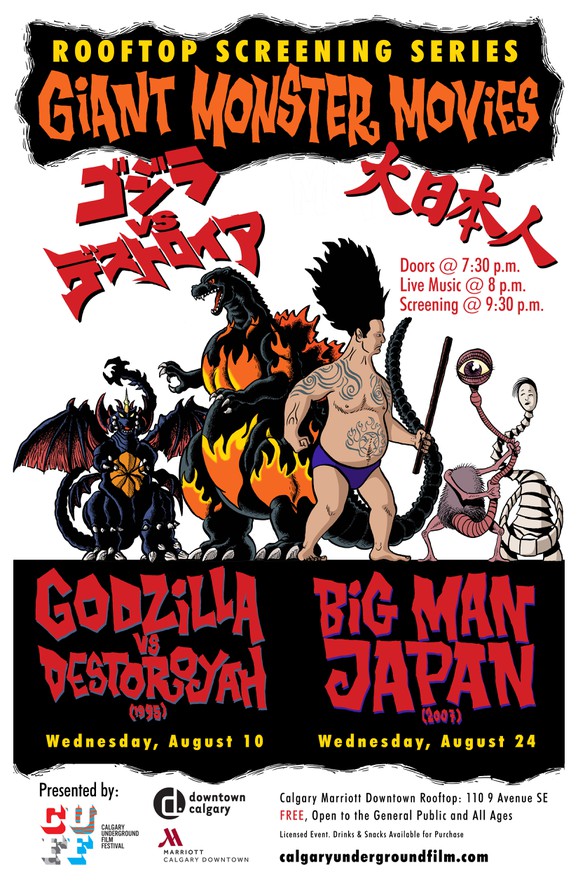 Rooftop Screening Series: Giant Monster Movies
The Calgary Underground Film Festival (CUFF), Downtown Calgary and the Marriott Hotel present a Rooftop Screening Series this August!
Experience Giant Monster Movies like never before. Join us in downtown Calgary under the stars and city lights overlooking Stephen Avenue on the rooftop of the newly renovated Marriott hotel. Full service on the patio bar. Admission is free and open to the general public. This is an all ages event. There will also be tasty hotdogs & chips available for purchase.
Seating: We will have chairs & Lobo Loungers provided, however you are welcome to bring your own comfy chair and blankets.
The Evening
Location: 110 9 Avenue SE (use the side street entrance on Centre street)
Doors: 7:30 p.m.
Live Music: 8 - 9 p.m.
Screening: 9:30 p.m.
Rescheduled for Wednesday, August 17
GODZILLA VS. DESTOROYAH (1995)
With a supercharged blast from his nuclear past, a new Godzilla emerges from his own ashes, radioactive and ready to take on Tokyo. The great monster's nuclear energy is increasing by the minute and a monster meltdown threatens to vaporize the planet. Soon Godzilla must battle his deadliest challenge yet: Destoroyah. Godzilla Junior joins in and the Super X-III aircraft is enlisted to cool things down before Godzilla melts all the way to the planet's core. The action is hot and the special effects are chillin' in this high-tech, high-powered Godzilla thriller!
Watch the trailer
Band #1: OUTLAWS OF RAVENHURST https://www.facebook.com/OutlawsOfRavenhurst/?fref=ts
Wednesday, August 24
BIG MAN JAPAN (2007)
A middle-aged slacker living in a rundown, graffiti-ridden slum, Daisato's job involves being shocked by bolts of electricity that transform him into a stocky, stick-wielding giant several stories high who is entrusted with defending Japan from a host of bizarre monsters. But while his predecessors were national heroes, he is a pariah among the citizens he protects, who bitterly complain about the noise and destruction of property he causes. And Daisato has his own problems: an agent insistent on branding him with sponsor advertisements, an Alzheimer-afflicted grandfather who transforms into a giant in dirty underwear, and a family who is embarrassed by his often cowardly exploits. A wickedly deadpan spin on the giant Japanese superhero, BIG MAN JAPAN is an outrageous portrait of a pathetic but truly unique hero.
Watch the trailer
Band #2: MONROEVILLE MUSIC CENTRE http://monroevillemusiccenter.blogspot.ca/
EVENT SPONSORS:
Calgary Marriott, Downtown Calgary, Big Rock Brewery, AFA & CADA