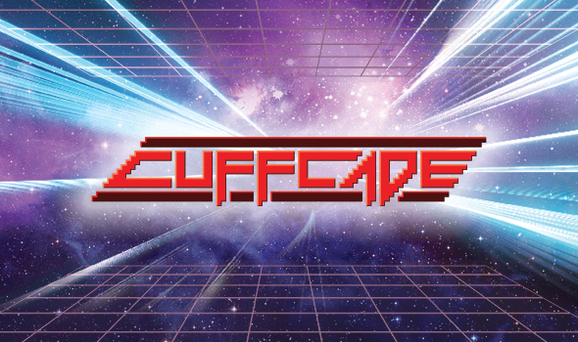 CUFFcade
For the third year, the Calgary Underground Film Festival will feature five custom arcade cabinets set up for the duration of the festival, on the mezzanine level of Globe Cinema. These arcade cabinets feature five new, independent video games. CUFFcade is the only curated arcade of its type in Canada. CUFFcade runs throughout the festival and is free and open to the public. If you're not at the festival for a film, entrance to the games will be between film screenings, once the main box office lines have been let it.
2017 CUFFcade games:
CRAWL
by POWERHOOF – MELBOURNE, AUSTRALIA
Crawl is the local multiplayer dungeon crawler where your friends control the monsters! It's bullet-hell beat-em-up meets old-school RPG, in an arcadey party-game for up to 4 players. One player is the hero, exploring a randomly generated dungeon full of traps and monsters – all controlled by the other players. If you slay the hero you take their place and it's your turn to crawl. Then it's a race to gain enough XP and loot to reach the final battle, where it's all on one as the other players collectively control the hulking final boss!
View the trailer
Steam purchase link
--
DOWNWELL
by MOPPIN – TOKYO, JAPAN
Downwell is a curious game about a young person venturing down a well in search of untold treasures with only his Gunboots for protection. Make your way further and further down into the darkness filled with nasty creatures and mysterious secrets to collect the spectacular red gems scattered about the rocks. Step into precariously placed shops and buy some helpful items or level up between levels to battle well-dwelling monsters and uncover hidden caves filled with riches and relics. No two trips down the well are ever the same!
View the trailer
Steam purchase link
--
MOTHER RUSSIA BLEEDS
by Le CARTEL STUDIO – PARIS, FRANCE
Mother Russia Bleeds is an ultra-violent co-op brawler overflowing with an unmistakable style and unforgettably brutal action for up to four players at once. Set in an alternate U.S.S.R, the story centers on a desperate crew of imprisoned street fighters that must overcome an oppressive criminal authority and forced drug addictions through any means necessary. Battle solo or alongside friends in an exceptional story mode campaign or harden your resolve in the savage Survival Mode.
View the launch trailer
View the gameplay trailer
Steam purchase link
--
OLLI OLLI 2: WELCOME TO OLLIWOOD
by ROLL 7 – LONDON, ENGLAND
Drop in to Olliwood and prepare for finger-flippin' mayhem in this follow-up to cult skateboarding smash OlliOlli. The iconic skater is going all green-screen with a stunning new look, plucking you from the street and dropping you squarely in the middle of the big screen's most bodacious cinematic locations.
View the trailer
Steam purchase link
--
RACE THE SUN
by FLIPPFLY – MADISON, USA
You are a solar craft. The sun is your death timer. Hurtle towards the sunset at breakneck speed in a futile race against time. Delay the inevitable by catching energy boosts which reverse the setting sun - if only for a moment. Race The Sun is inspired by arcade games of the past with a focus on highscores, short game sessions, and a sense of pure fun mingled with a nerve-wracking tension. The rules are simple: don't crash, stay in the light, and don't slow down!
View the trailer
Steam purchase link
--
More about CUFFcade:
CUFFcade is an initiative which we started in 2015. Each year we will launch a new set of games at the April festival. These custom cabinets that house the games are portable and can be set up at off-season events. If you are interested in CUFFcade being a part of something in particular, please drop us a line! The games are curated by Mike Lohaus.