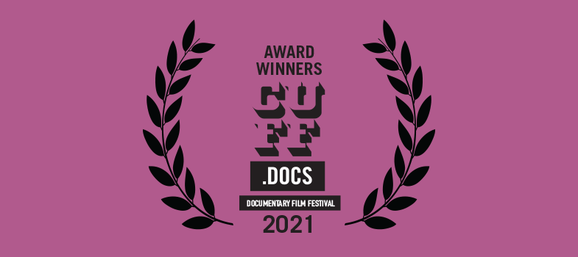 2021 CUFF.Docs Awards
Audience Awards
Best Documentary Feature – LOVE: THE LAST CHAPTER (Director Dominique Keller)
Runner-Up – ONCE UPON A TIME IN UGANDA (Directors Cathryne Czubek and Hugo Perez)
Best Documentary Short -– KOTO: THE LAST SERVICE (Director Joella Cabalu)
Jury Award Winners
Best Documentary: CANNON ARM AND THE ARCADE QUEST
Director Mads Hedegaard
The jury was fully invested in this sweet story of friendship that breaks records and biases surrounding mental illness, neurodiversity, and age. A film that validates difference, makes niche interests accessible, gives spreadsheets their due and serves up a must-see grilled cheese montage, this year's award for BEST DOCUMENTARY goes to CANNON ARM AND THE ARCADE QUEST, a feat of endurance that finds success in gratitude, not just achievement!
Watch at Globe Cinema on Sunday, Nov 28 at 5pm or stream on demand. BUY TICKETS
Special Jury Prize: WE WERE ONCE KIDS
Director Eddie Martin
The SPECIAL JURY prize goes to WE WERE ONCE KIDS, a documentary that examines the landmark 1990s film KIDS through a contemporary lens. Empowering the subjects of the original film to share their stories in their own words and on their own terms, this corrective lays bare the exploitation of its actors, raising deep and relevant questions about the power of representing experiences that are not one's own and the responsibility that comes with that privilege.
Stream on demand until Sunday. BUY TICKETS
Jurors
Brad Abrahams is a documentary filmmaker from Toronto, currently in Austin, TX. His all-consuming interests in weird science, marginalized subcultures, and general esoterica inspire his stories. Brad's first feature, LOVE AND SAUCERS won a special jury prize at Fantastic Fest 2017, and a Hulu exclusive shortly after. Brad is also a multi-time CUFF alumnus. His previous work that has played the festival includes TELOS AND BUST (CUFF.Docs 2021), DO YOU SEE WHAT I SEE? (2021), CONSPIRACY CRUISE (2020) and LOVE AND SAUCERS (2017).

Angie Driscoll brings two decades of film programming experience to her work as Senior Shorts & Senior International Programmer at Hot Docs. She has programmed for a variety of international film festivals including Aspen Shortsfest, Nordisk Panorama, the Toronto International Film Festival, the Canadian Film Centre's Worldwide Short Film Festival, and the Toronto Urban Film Festival. She has curated films for Babelgum, the Sundance Film Festival, Reel Canada and the Prism Prize. Angie currently works with the Athena Film Festival in New York City, Midtnorsk Filmsenter and Minimalen Kortfilmfestival in Trondheim, Magnetfilm in Berlin and Cinema Scandinavia in Oslo as a film consultant and writer.

Pat Mullen is the publisher of POV Magazine. He holds a Master's in Film Studies from Carleton University, where his research focused on adaptation and Canadian cinema. Pat has also contributed to outlets including The Canadian Encyclopedia, Paste, That Shelf, Sharp, and Complex. He is the vice president of the Toronto Film Critics Association.