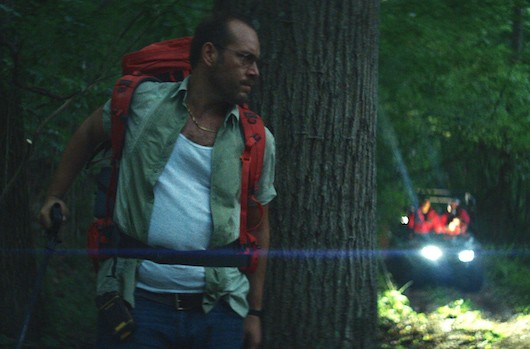 Off the CUFF: LAPSIS
Our Off the CUFF series is heading online, as we bring the best new genre-defying films straight to your home. LAPSIS is a witty sci-fi social satire about the gig economy and the failed utopian promises of big tech.
When: Stream available starting Feb 12 @7am until Feb 18 @11:55pm
Rental Details: Once you start watching your stream you will have three days to view the film.
Tickets: $6.99 per stream
Click here to purchase your stream now
STREAMING INFO
This film is geo-restricted to Canada (you must be in the country to stream the film)
Streaming FAQs
DETAILS
USA, 2020, 104 min
SYNOPSIS
New York, an alternate present: the quantum computing revolution has begun and investors are lining their pockets in the quantum trading market. Building the network, though, requires miles of infrastructure to be laid between huge magnetic cubes by "cablers" - unprotected gig workers who compete against robots to pull wires over rough terrain.
Queens delivery man Ray Tincelli is skeptical of new technology, and the buy-in to start cabling is steep, but he struggles to support himself and his ailing younger brother, who suffers from a mysterious illness. So when Ray scores a shady permit, he believes their fortunes may have finally changed. What he doesn't expect is to be pulled into a conspiracy involving hostile cablers, corporate greed, and the mysterious "Lapsis" who may have previously owned his permit. Called "a smart class-conscious sci-fi parable" by The Hollywood Reporter, Lapsis is a darkly comic and timely look at the gig economy and the failed utopian promises of big tech.
CREDITS
Writer & Director: Noah Hutton
Starring: Dean Imperial, Madeline Wise, Dora Madison, Frank Wood, Arliss Howard, Ivory Aquino, James McDaniel, Babe Howard
AWARDS
Winner – Jury's Choice Award, Bucheon International Fantastic Film Festival
Nominee – Grand Jury Award, SXSW
OFFICIAL SELECTION
SXSW 2020
Fantasia Film Festival 2020
REVIEWS
"An ambitious blend of modern technology and timeless concerns, bolstered by a winking good humor." – Indiewire
"Straddles both the bleak present-tense reality of Ken Loach's SORRY WE MISSED YOU and the subversive near-future political satire of Boots Riley's SORRY TO BOTHER YOU while arriving at a whimsical critique all its own." – Variety
OFF THE CUFF is a year-round series presented by the Calgary Underground Film Festival. For those films we just can't make work with our festival dates, we go off the CUFF.