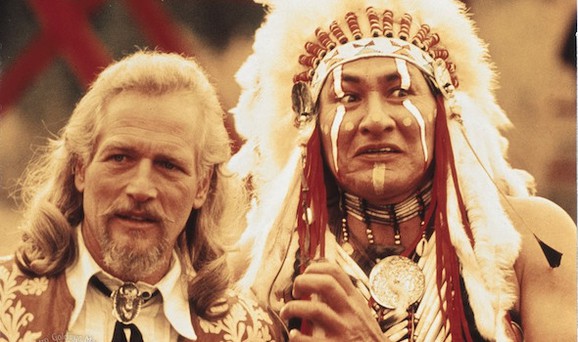 WILD: Fabricating a Frontier
Presented in partnership with Contemporary Calgary, the film screenings of WILD: Fabricating a Frontier examine classically constructed frontier narratives by presenting alternative representations of what it means to live in contested zones. Exploring the affectations of settler colonial romanticism and its persistence in performances of the "Wild West", this project troubles settler hegemonies and offers alternative practices of wildness.
All films presented as part of WILD were curated by the Calgary Underground Film Festival.
Screenings are free and take place at Globe Cinema (617 8 Ave SW).
Screening information
July 9, 7 PM: Aboriginality (Short) / Buffalo Bill and the Indians, or Sitting Bull's History Lesson (Feature)
July 12, 7 PM: Gods Acre (Short) / Johnny Guitar (Feature)
July 14, 7 PM: For Love of the Land (Short) / Totem: The Return of the G'psgolox Pole (Feature)
Film information
Robert Altman marked America's Bicentennial in 1976 with a revisionist Western that pierced the veil of the mythos of the classic American hero. Buffalo Bill and the Indians, or Sitting Bull's History Lesson was shot in Alberta and featured Stoney Chief Frank "Sitting Wind" Kaquitts as Sitting Bull. Paul Newman's portrays "Buffalo Bill" Cody as a showbiz creation rather than the mythical figure he is portrayed to be in the conventional narrative. Conversely, Sitting Bull embodies the virtues of the classic Western hero, honesty and moral purity. The feature will be preceded by Dominque Keller's Aboriginality. The animated short features World Champion Hoop Dancer Dallas Arcand mixing traditional dance with contemporary hip-hop (July 9)
In 1954, a year before making Rebel Without A Cause, Nicholas Ray broke away from RKO Pictures to pursue creative freedom at Republic Pictures. In his first foray experimenting with the aesthetics of Trucolor, he also played with genre conventions and drove the bold architectural decisions of the set design. Johnny Guitar centres on Joan Crawford as saloon owner Vienna. Her foil dressed in black is townswoman Emma Smalls, played with devilish passion by Mercedes McCambridge. Coinciding with the approaching railroad, Emma leads a posse trying to drive Vienna and her alleged criminal connections from town. The film questions elements of the classic Western while also critiquing McCarthy-style mob mentality. The feature will be preceded by Kelton Stepanowich's Gods Acre. An elderly Aboriginal man, played by Lorne Cardinal, considers how a changing landscape affects his way of life. As rising water threatens his home, he must decide if he will leave his birthplace (July 12)
Gil Cardinal's documentary Totem: The Return of the G'psgolox Pole follows the Haisla people as they work to reclaim a totem pole taken from Northern British Columbia in 1929. More than 60 years after its disappearance, the pole is found in a Stockholm museum where the Swedish Government considers it state property. The film raises questions about ownership and the meaning of Aboriginal objects held in museums. The feature will be preceded by Caitlind r.c. Brown's For Love of the Land. An experimental film drawing from mythologies of the Western genre, it is an ode to cinematic western motifs, fragmented story-telling, conquests for land and love, and vast Albertan landscapes. For Love of the Land was included in the 2013 Calgary Underground Film Festival (July 14)