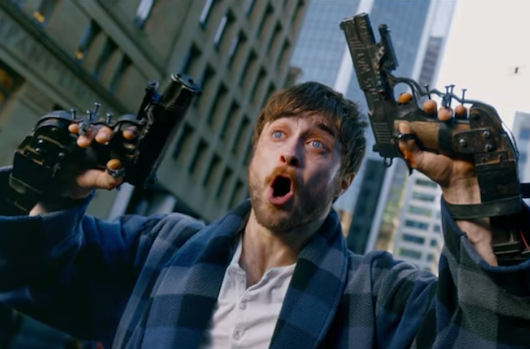 Off the CUFF: GUNS AKIMBO
A nerdy video game developer played by Daniel Radcliffe becomes the next contestant in an illegal live-streamed death match in this hilariously dark, viciously violent, and chillingly prescient sci-fi thriller from writer-director Jason Lei Howden (DEATHGASM).
When: Tuesday, Feb 18 @ 7:00 pm
Where: Globe Cinema (617 8 Ave SW)
Tickets: $10 ($8 members / students / seniors)
ADVANCE TICKETS ARE NOW SOLD OUT Limited tickets available at the door for the rush line.
DETAILS
Germany, New Zealand, 2019, 95 min
SYNOPSIS
Miles (Daniel Radcliffe) is a socially awkward, easily intimidated loner who spends his days in a deadend job, pining for his beautiful ex-girlfriend. His mundane existence is turned upside down when he finds himself enrolled on a dark net website that forces complete strangers to fight in a city-wide game of death, so that their gladiatorial battles can be live-streamed worldwide to a fanatical, blood-lusting audience. Miles's lifetime of running from his problems initially pays off when he manages to elude Nix rather than fight. But when Nova is kidnapped, he must stop running and overcome his fear to fight for the girl he loves. An inspired, contemporary take on the iconic action movies of the '80s and '90s, GUNS AKIMBO is an adrenaline-soaked balls-to-the-wall action comedy in the tradition of KICK-ASS, THE TERMINATOR and DEADPOOL.
CREDITS
Director: Jason Lei Howden
Producers: Joe Neurauter, Felipe Marino
Executive Producers: Michael Mailis, Will Clarke, Andy Mayson
Cast: Ned Dennehy, Daniel Radcliffe, Samara Weaving
OFFICIAL SELECTION
Toronto International Film Festival 2019 (World Premiere)
Fantastic Fest 2019
"Watching GUNS AKIMBO feels like having someone toss a bucket of cocaine and bullets right into your stupid face, and I mean that in the best way possible." – Birth.Movies.Death
"A spectacularly fun and exciting time whenever the needle drops." – RogerEbert.com
OFF THE CUFF is a year-round series presented by the Calgary Underground Film Festival. For those films we just can't make work with our festival dates, we go off the CUFF.