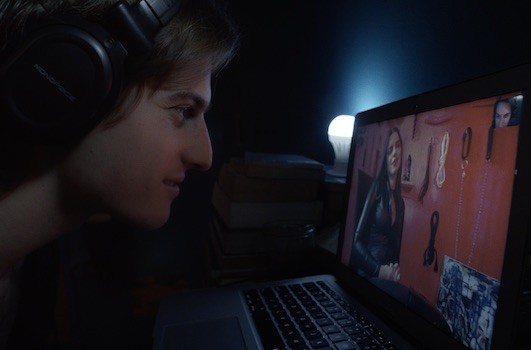 Off the CUFF: PVT CHAT
Our Off the CUFF series is heading online, as we bring the best new genre-defying films straight to your home. First up is the kinky dark comedy PVT CHAT about a lonely internet gambler who becomes fixated on a cam girl from San Francisco.
When: Stream available from Feb 5 @1am until Feb 11 @11:55pm MST
Rental Details: Once you start watching your stream you will have three days to view the film
Tickets: $8 USD (approximately $10 CAD)
BUY NOW
STREAMING INFO
This film is geo-restricted to Canada (you must be in the country to stream the film)
Streaming FAQs
DETAILS
USA, 2020, 86 min
SYNOPSIS
Jack is a lonely internet gambler living in New York City. He quickly becomes fixated on Scarlet (Julia Fox, UNCUT GEMS) – a cam girl from San Francisco. As Jack (Peter Vack, 2017 CUFF Selection ASSHOLES) learns more about Scarlet, he discovers her unrealized talent as a painter and begins to fall hard for her. His obsession reaches a boiling point when fantasy materializes in reality and Jack sees Scarlet on a rainy street in NYC Chinatown. While Scarlet is clearly hiding her whole truth, milking Jack's wallet in the process, she also seems to develop genuine feelings for him. Jack has to find out – is their emotional connection real or is he just being taken for a ride?
CREDITS
Writer & Director: Ben Hozie
Starring: Peter Vack, Julia Fox, Keith Poulson, Buddy Duress, Kevin Moccia, Nikki Belfigilio, David J. White
OFFICIAL SELECTION
Fantasia 2020
REVIEWS
"PVT CHAT deserves a spot in the echelon of great movies about sex, such as SECRETARY and SEX, LIES, AND VIDEOTAPE." – Film Threat
"Deliberately unpolished in its approach, and cheerfully uninhibited." – Screen Daily
PVT CHAT Q&A
On Saturday, Feb 6 we hosted a Live Q&A with PVT CHAT Writer & Director Ben Hozie and Lead Actor & CUFF Alumnus Peter Vack moderated by join CUFF Lead Programmer Cameron Macgowan.
OFF THE CUFF is a year-round series presented by the Calgary Underground Film Festival. For those films we just can't make work with our festival dates, we go off the CUFF.