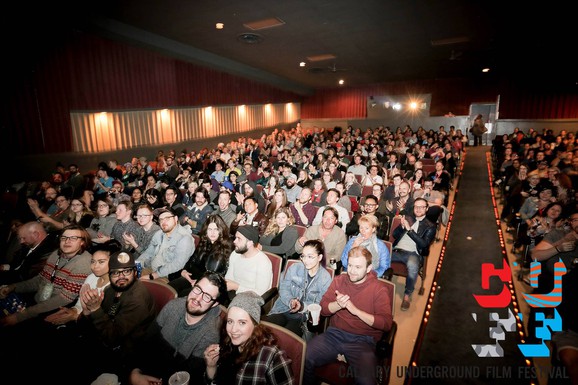 2017 Awards
What a festival! Thank you for supporting the 14th Calgary Underground Film Festival – our biggest one yet! This was our highest attended festival ever (up 4% from last year), we had a record number of sold out shows, and heard nothing but positive buzz throughout the festival. We couldn't do this festival without the support of our audience, members, sponsors and volunteers. Thanks for making the 14th CUFF the best one yet & loving this little fest as much as we do.
2017 Calgary Underground Film Festival Award Winners
The votes are in! Here are the winners of the 2017 Audience & Jury Awards. Thank you to all of our jurors and to you, our audience, for casting your ballots at every screening.
AUDIENCE AWARD WINNERS
Best Narrative Feature – DAVE MADE A MAZE (Directed by Bill Watterson),
Runner-up - BAND AID (Directed by Zoe Lister-Jones)
Best Documentary Feature – G FUNK (Directed by Karam Gill)
Best Narrative Short – NO OTHER WAY TO SAY IT (Directed by Timothy Mason)
Best Documentary Short – BAYARD & ME (Directed by Matt Wolf)

JURY AWARD WINNERS
Best Narrative Feature – PEOPLE THAT ARE NOT ME (Directed by Hadas Ben Aroya)
Honourable mentions: BAND AID (Directed by Zoe Lister-Jones) & GORAN (Directed by Nevio Marasovic)
Best Documentary Feature – 78/52 (Directed by Alexandre O. Philippe)
Best Canadian Short (Sponsored by William F. Whites) – APE SODOM (Directed by Maxwell McCabe-Lokos)
JURORS:
Best Narrative Feature:
Mitch Davis; Co-Director Fantasia International Film Festival
Jason Gorber; Freelance Film Critic/Journalist for ScreenAnarchy, CTV News Channel Birth.Movies.Death, DorkShelf et al.
Nicole McControversy; Director of Programming Boston Underground Film Festival
Best Documentary Feature:
Dave Alexander; Former editor-in-chief of Rue Morgue magazine, co-creator of Untold Horror
Michael Boyuk; Distributor, Films We Like
Michelle Wong; Head of Feature Film Production Corkscrew Media Inc.
Best Canadian Short Film:
Dominique Keller; Filmmaker/ Director
Nelson MacDonald; Producer at Grassfire Films (WEREWOLF), Programmer Halifax Indepedent Filmmaker's Festival
Peter Kuplowsky; In between producing films (THE INTERIOR, THE VOID), Peter Kuplowsky's appetite for genre and outsider cinema is fed curating FANTASTIC FEST's short film sidebars and TIFF's MIDNIGHT MADNESS programme.