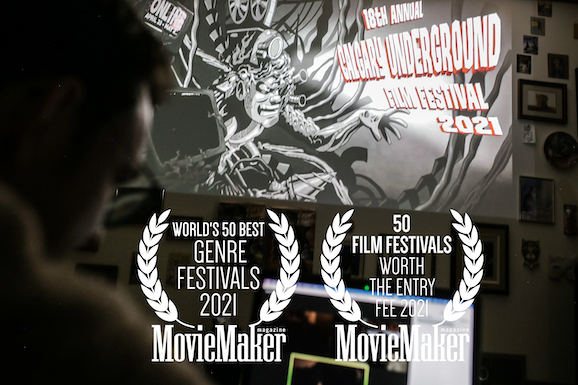 MovieMaker Awards
Calgary Underground Film Festival Named One Of Moviemaker's 50 Film Festivals Worth The Entry Fee 2021
The 18th annual CUFF streams across Alberta until Sunday
LOS ANGELES / CALGARY – April 26, 2021 – MovieMaker Magazine today announced that the Calgary Underground Film Festival has been named one of MovieMaker's 50 Film Festivals Worth the Entry Fee in 2021, as the 10-day festival is currently taking place across Alberta. For the second consecutive year, CUFF has been held online due to the pandemic, but that hasn't stopped the festival from getting serious industry credibility, high caliber virtual guests, and tracking to break 2020 online attendance records.
In October MovieMaker also recognized CUFF as one of The World's 50 Best Genre Festivals 2021, and today's announcement solidifies CUFF as one of Canada's top film festivals, and a premiere international genre festival.
"It's so exciting and truly an honour that we made MovieMaker's list this year; I'm really proud of our festival. I love how this year's lineup came together, and the special guests that we've had the opportunity to speak with in live Q&As and pre-recorded conversations that play after film streams. We have such a supportive community of audience, filmmakers world-wide, distributors, and sponsors that it all works to enhance and build our festival and the experience of everyone involved. I truly love our CUFF fans!," said CUFF Festival Director & Lead Programmer Brenda Lieberman.
Today marks the third day of the 18th annual festival, and CUFF has already surpassed last year's box office revenue and is tracking to break attendance numbers since CUFF switched to an online format last year.
This year CUFF scored some major titles on the festival circuit including five International premieres and 16 Canadian premieres, while still championing up and coming independent filmmakers and a diversity of voices.
On Opening Weekend contemporary comedy greats Betsy Sodaro, Mary Holland and Maureen Bharoocha (Opening Night Film GOLDEN ARM), as well as Sundance break-out first-time feature director James Ashcroft (COMING HOME IN THE DARK) participated in live Q&As for the Canadian premieres of their films, giving local audiences the opportunity to connect with filmmakers despite international travel restrictions.
"It's really important for us to evolve, transition, and celebrate films and filmmakers even if we can't gather in person. We really do what we can to deliver the best experience for everyone, in light of our circumstances. This year we truly feel the full excitement of a festival, even online," added Lieberman.
CUFF continues to host annual staple events online, such as the Found Footage Festival and the family-friendly SATURDAY MORNING ALL-YOU-CAN-EAT-CEREAL (NOW AT HOME) CARTOON PARTY!.
On Saturday, May 1, CUFF will host a Live Script Reading of the in-development film HURT THEM from Calgary director Michael Peterson. Canadian icon Michael Ironside, genre legend Barbara Crampton, and director-comedian-actor Andre Hyland (who can be seen in the upcoming GUILTY PARTY currently filming in Calgary) will all be readers alongside local cast selected following a call-out from CUFF partner ACTRA.
"These festivals have supported their communities, audiences and filmmakers with never-give-up innovations to celebrate our love of movies. Some of the things they perfected in 2020, like virtual screenings, are here to stay, even for festivals that return to in-person, indoor showings," said MovieMaker editor-in-chief Tim Molloy.
"But we didn't just choose these festivals based on their handling of the pandemic. They made this list by proving themselves to be of serious value to the next generation of moviemakers, through awards, prizes, distribution deals, and meetings with future collaborators and friends," added Molloy.
The online portion of the Calgary Underground Film Festival runs from April 23 – May 2, giving Albertans seven more days to experience first-hand CUFF's cutting-edge programming and inspired special events. Tickets cost $10 per film steam, $40 for a 5-pack or $139 for a festival pass, which gives full access to CUFF's 35+ feature films and events.
CUFF will be back from June 3-5, 2021 for a weekend of drive-ins at Crossroads Market. For more information about the organization and the films playing CUFF 2021 visit calgaryundergroundfilm.org
To book interviews with festival programmers, filmmakers or to inquire about reviewing films please contact:
Laura Carlson
CUFF Marketing & Publicity
laura@calgaryundergroundfilm.org
___
ABOUT MOVIEMAKER MAGAZINE'S TOP 50 FILM FESTIVAL WORTH THE ENTRY FEE LIST
MovieMaker determines the winners of the annual list using festival surveys, filmmaker testimonials and independent research. This is the first-time CUFF has made MovieMaker's list, and is one of seven Canadian film festivals recognized alongside established festivals like Fantasia International Film Festival (Montreal) and Vancouver International. See the full writeup at MovieMaker.com.
Albuquerque Film & Music Experience
American Film Festival
Ann Arbor Film Festival
Ashland Independent Film Festival
Atlanta Film Festival
Austin Film Festival
BendFilm Festival
Big Sky Documentary Film Festival
Brooklyn Film Festival
Calgary Underground Film Festival
Camden International Film Festival
Cucalorus
Evolution Mallorca International Film Festival
Fantasia International Film Festival
Female Eye Film Festival
Filmfestival Kitzbühel
FilmQuest
FIN Atlantic International Film Festival
Frameline: The San Francisco International LGBTQ+ Film Festival
Galway Film Fleadh
Hamptons International Film Festival
Heartland International Film Festival
HollyShorts Film Festival
Hot Springs Documentary Film Festival
Indie Memphis Film Festival
Julien Dubuque International Film Festival
Kraków Film Festival
Locarno Film Festival
Louisiana Film Prize
Mammoth Lakes Film Festival
Miami Jewish Film Festival
Nashville Film Festival
Nevada City Film Festival
New Hampshire Film Festival
New Orleans Film Festival
Ottawa International Animation Festival
Oxford Film Festival
Poppy Jasper International Film Festival
Portland Film Festival
Queens World Film Festival
San Luis Obispo International Film Festival
SCAD Savannah Film Festival
Slamdance Film Festival
Tallgrass Film Festival
Thessaloniki International Film Festival
Torino Film Festival
Vancouver International Film Festival
Victoria Film Festival
Warsaw International Film Festival
WorldFest-Houston Intl Film Festival