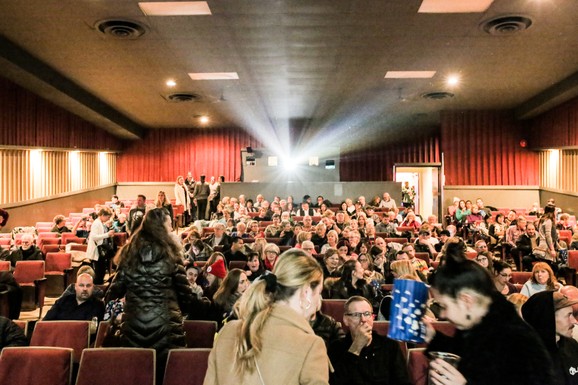 CUFF.Docs 2018 Sets Record Attendance
Audience increases by 23% making this our biggest documentary festival yet
We've set a new record for CUFF.Docs 2018: Calgary's Documentary Film Festival! Attendance for the festival was up by 23% over 2017, with 1700 of you coming out over the 5-day fest. April will always be our main jam, but your love for docs keeps this festival growing year-after-year. Thank you to everyone that came out to help support the festival. Stay tuned for announcements of winter off-the-cuff screenings and let the countdown to April begin!
JURY & AUDIENCE AWARD WINNERS
Thank you to our jury members Josiah Hughes (film editor at exclaim!), Sara Jean Hughes (filmmaker, drummer and art director) and Mike Bell (founder and editor of theYYSCENE), and you, the audience, for voting at each film.
Winner: Jury Award (tie)
MINDING THE GAP (Dir. Bing Liu)
Jury Statement: "MINDING THE GAP was a powerful exploration of how domestic abuse can be passed on through generations. Bing Liu revealed the story expertly, revealing details to the audience in a way that felt organic and matched the experience of his subjects, who also didn't realize they were going through similar problems to one another. It had a beautiful score, and the cinematography was immersive. Through it all, there was a backbone of skateboarding that bonded them all. That it was Bing's first film was even more impressive. A lot of seasoned directors can't match the intimacy and profundity that he achieved. Though the film is heartbreaking, it's also very timely. After all, we're living in an era where more and more dark secrets are being brought to the light. As a result, MINDING THE GAP is an important work that will be remembered for many years."
Winner: Jury Award (tie)
PEOPLE'S REPUBLIC OF DESIRE (Dir. Hao Wu)
Jury Statement: "A great documentary has the ability to open up a whole new world to you, be it on a more personal level or an entire cultural phenomenon. PEOPLE'S REPUBLIC OF DESIRE does the latter — in a big, bright, flashy, fast-moving way — while also still managing to inject the perfect amount of humanity into the compelling narrative. It's funny, tragic, depressing, dark and moving, and a world you'll be astounded to discover, thankful you did."
Winner: Audience Award
WOLVES UNLEASHED AGAINST ALL ODDS (Dir. Andrew Simpson)
"Thank you so much for the news that WOLVES UNLEASHED AGAINST ALL ODDS has won the Audience Choice Award! It was an honour to screen in my home province and to screen alongside such great documentaries at the CUFF.Docs 2018. I was humbled by the incredible audience turnout for our film and all the support that people have given to our wolves. Thank you for the exposure and the help you provide for filmmakers like me. Much appreciated" – Andrew Simpson, Director WOLVES UNLEASHED: AGAINST ALL ODDS
Runner-up: Audience Award
MATANGI / MAYA / M.I.A.
JURORS
Mike Bell has been covering the Calgary arts and entertainment scene for the past 25 years with publications such as VOX, Fast Forward, the Calgary Sun and, most recently, the Calgary Herald. He is currently the music writer and content editor for theYYSCENE.ca, Calgary's go-to-guide for getting out, which he and partner Kari Watson started in January of 2017. He likes beer. Buy him one.
Sara Jean Hughes is a filmmaker, drummer and art director. In addition to directing music videos for bands like Lab Coast and her own project Pre Nup, she directed the short film Trope (2018) and the documentary Tubby Doc (2011). She is currently an art director at Dissolve.
Josiah Hughes is an editor for Exclaim! Magazine, where he runs the film section. He previously worked as the film and music editor at Fast Forward Weekly. When he's not playing in Pre Nup with Sara, he cohosts Blink-155, a podcast devoted to the band Blink-182.