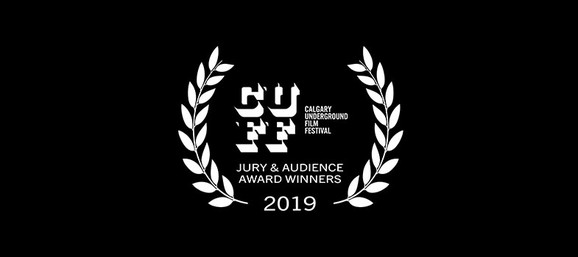 2019 Awards
2019 Calgary Underground Film Festival Awards
Each year we ask our esteemed jury and our expert audience to tell us which films they loved the most at the Calgary Underground Film Festival. Congratulations to the following films for taking home Audience & Jury Awards at CUFF 2019.
AUDIENCE AWARD WINNERS
Audience Award Best Narrative Feature: HARPOON (Dir. Rob Grant)
Audience Award Best Documentary Feature: ASK DR. RUTH (Dir. Ryan White)
Audience Award Best Canadian Short: MEMENTO MORI (Dir. Anna Barker & Ryan Irving)
Audience Award Best International Short: SQUIRREL (Dir. Alex Kavutskiy)
JURY AWARD WINNERS
Narrative Feature
Jury Award Best Narrative Feature: IN FABRIC (Dir. Peter Strickland)
Part nightmare, part couture, acclaimed director Peter Strickland executes his signature style of dry humour, eroticism and an element of the surreal.

Special Jury Mention: THE MOUNTAIN (Dir. Rick Alverson)
"Special Jury Mention to THE MOUNTAIN for its spellbinding mise en scène and quietly transgressive critique of American values."
Documentary Feature
Jury Award Best Documentary Feature: HAIL SATAN? (Dir. Penny Lane)
"For its devilish deep dive into the religious wars in the U.S., following a group of radical humanists as they diabolically upend convention and turn iconography against itself, pointing their horns towards the claim that true grace comes not from darkness of unfettered deism but from the strength of community, the CUFF 2019 jury awards Penny Lane's HAIL SATAN? our top prize."
Special Jury Mention – Best in Breed Award: WHO LET THE DOGS OUT (Dir. Brent Hodge)
"A best-in-breed film tracing one man's journey to the heart of barkness. Such a film about an incessant earworm could easily have been mere dogshit, but instead throws us a bone by crafting a Baha-mazing rumination upon our collective conscious, providing an unleashed chase through the epistemological quandary about just whom did lettith said dogs, and from whence they cameth. The CUFF 2019 jury recognizes Brent Hodge's WHO LET THE DOG'S OUT with a special mention recognizing its fiercely dogged approach."
Special Jury Mention – Illumination and Vision Award: MIDNIGHT FAMILY (Dir. Luke Lorentzen)
"A deeply moving story about one family's calling, where their desire to provide medical aide is in conflict with their own need to survive, all within a system of corruption that comes down to life and death. This harrowingly beautiful work shocks and saddens, yet the glimpses of unabashed humanity echo throughout, making the never-before-seen images shocking and moving in equal measure as actions in the dark of night are brought to light. The CUFF 2019 jury recognizes Luke Lorentzen's MIDNIGHT FAMILY with a special jury mention for its illumination and vision."
Best Canadian Short (sponsored by William F. White)
Jury Award Best Canadian Short: CATERPILLARPLASTY (Dir. David Barlow-Krelina)
"Genuine high octane nightmare fuel and a film that gets right under the skin and starts writhing. There's a delightful perverse sensibility on display in every detailed frame."
Special Jury Mention: NO ONE WILL EVER BELIEVE YOU (Dir. Frédéric Chalté)
"Filmmakers displayed adept efficiency with the short form script as well as a real talent for visual storytelling."
Special Jury Mention ­­– Emerging Filmmaker: MEMENTO MORI Directed by (Dir. Anna Barker & Ryan Irving)
"This is a great concept adeptly executed that shone with originality, emotionally engaging and a tricky subject well explored."
JURORS:
Best Narrative Feature
Heather Buckley; Genre Journalist | Producer
Robert Cuffley; Calgary-based Feature Director | Writer | Producer
Aaron Hillis; Curator | Programmer | Writer
Best Documentary Feature
Amanda Gauvin; Manager of Distribution | levelFILM
Jason Gorber; Managing Editor | ThatShelf.com
Karen Pickles; President Producer | Dreamers Rock Productions Ltd
Best Canadian Short Film
Lindsey Hodgson; VP Distribution | Pacific Northwest Pictures
Dara Moats; Programmer | DeuXX and Saskatoon Fantastic Film Fest
Curtis Woloschuk; Associate Director of Programming | Vancouver International Film Festival