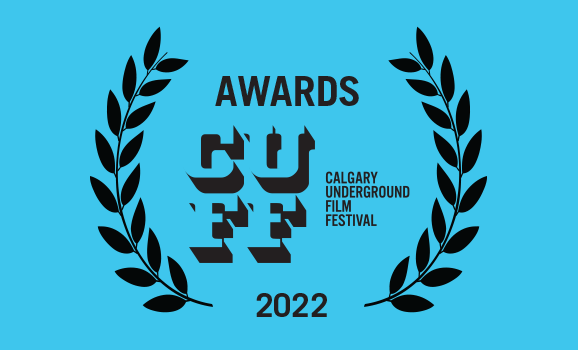 2022 Awards
AUDIENCE AWARDS

Audience Award Best Narrative Feature – WILD MEN Director Thomas Daneskov

Audience Award Best Documentary Feature – GETTING IT BACK: THE STORY OF CYMANDE Director Tim Mackenzie-Smith

Audience Award Best Canadian Short – PIITA AAPASSKAAN Director Brock Mitchell
Audience Award Best International Short – INAPPROPRIATE JOKES WELL TOLD Director Mario Garza
JURY AWARDS
Jury Award Best Narrative Feature
WINNER – STRAIGHTEN UP AND FLY RIGHT Directors Kristen Abate and Steven Tanenbaum
STRAIGHTEN UP AND FLY RIGHT is a funny, surprising, and deeply moving film that embodies the best aspects of independent filmmaking. By providing a unique perspective into the experience of living with disability, filmmakers and lead performers Kirsten Abate and Steven Tanenbaum illustrate the importance of community, friendship, and having a platform to be heard.
Honourable Mention – DUAL Director Riley Stearns
Using idiosyncratic humour and a unique approach to performance, DUAL is a hilarious and thought-provoking exploration of mortality, media and technology's more disturbing possibilities.
Jury Award Best Documentary Feature
WINNER – GETTING IT BACK: THE STORY OF CYMANDE Director Tim Mackenzie-Smith
GETTING IT BACK: THE STORY OF CYMANDE is a fantastic documentary that not only tells the story about an exciting and innovative group of musicians who made some great albums, but more importantly situates the human story about the musicians with the greater context of their music's impact throughout popular culture via crate diggers, rap and disco. The story sheds light on something that more people should know about it all, while being a celebration of the power of great art to find and connect to fans over time.
Special Jury Mention for Most Innovative Documentary – WE MET IN VIRTUAL REALITY Director Joe Hunting
WE MET IN VIRTUAL REALITY appropriately combines our shared experiences during the pandemic with a world in which one can truly reinvent themselves. Virtual Reality may not be a medium where everyone would feel comfortable, though this film provides a valuable look at a moment in time where human comfort has been challenged across the globe. As we will likely reference the time during this pandemic as a massive hurdle in humanities history, WE MET IN VIRTUAL REALITY will stand as an innovative time capsule for those who persisted in the face of adversity.
Jury Award Best Canadian Short Sponsored by the Directors Guild of Canada (DGC) and William F. White
Sponsored by the Directors Guild of Canada (DGC), the Best Canadian Short Award winner receives a $2500 cash prize plus a DGC mentor partner for their next project along with a $2500 gift certificate donated by William F. White International Inc.
WINNER – CRUISE Director Sam Rudykoff
A tense and surprising send-up of antiquated telephone etiquette and cold calling scams, the jury was wowed by a film that could very well be the SAW of the telemarketing world. Featuring both a sly sense of wit and spot-on performances, the film reveals all that's been lost in our era of smart phones and caller ID, and how in avoiding numbers we don't recognize, we may sometimes miss acts of generosity – and murder, too.
Honourable Mention – IN THE SHADOWS Director David Émond-Ferrat
A film full of genuine scares and spooky atmosphere along with ample fog, flies and shape-shifting mimic monsters, this well-crafted thriller doubles as a smart shadow play generated by fears of looming divorce and the ghosts of the nuclear family.
JURORS
Best Narrative Feature
Dan Moore: Executive Director of Indy Film Fest in Indianapolis
Dan Moore serves as Executive Director of Indy Film Fest in Indianapolis, Indiana which will hold its 19th annual festival in June of 2022. His love for independent films and festivals started there 15 years ago, and has lead to spending nights and weekends volunteering with that festival, writing software for film festivals, and traveling to film fests around the country. By day he's a software engineer working in the news industry, and lives with his two cats in Indianapolis, Indiana.
Ted Stenson: Filmmaker
Ted Stenson is a writer and filmmaker based out of Calgary, Alberta. His first feature film Events Transpiring Before, During, and After a High School Basketball Game had its world premiere at the Vancouver International Film Festival in 2020 and screened at over 15 festivals worldwide. His documentary about the Alberta Rat Patrol, Living Without Menace, will air on CBC in Fall 2022.
Serena Whitney: Programmer & Screenwriter
Serena Whitney is a Toronto-based film programmer and screenwriter. She is currently the Programming Director at Revue Cinema, Toronto's oldest operating cinema and is the creator of the popular film series, Drunken Cinema - a monthly film series hosted in various Canadian cities (as well as abroad). Serena's short film DO YOU SEE WHAT I SEE? (2016), which she wrote, directed and produced, premiered at CUFF that same year.

Best Documentary Feature
Doug Brown: Filmmaker & Teacher
Doug Brown hails from Scarborough, Ontario and has been obsessed with music and movies since he was a kid. During the day he teaches Film Studies at a high school in Toronto, and his evenings and weekends are spent working on documentaries. His last documentary, SLAVE TO THE GRIND (2018), was screened in over 200 cities worldwide and earned him 11 awards. He currently lives in Toronto, Canada with his wife, two daughters, two cats, and 10,000 records.
Kier-La Janisse: Writer, Filmmaker
Kier-La Janisse is a film writer, programmer, producer and founder of The Miskatonic Institute of Horror Studies. She is the author and editor of several books including HOUSE OF PSYCHOTIC WOMEN:AN AUTOBIOGRAPHICAL TOPOGRAPHY OF FEMALE NEUROSIS IN HORROR AND EXPLOITATION FILMS (2012) and SATANIC PANIC: POP-CULTURAL PARANOIA IN THE 1980S (2015). She works for Severin Films, where she produced David Gregory's TALES OF THE UNCANNY (2020) and made her first film as director, WOODLANDS DARK AND DAYS BEWITCHED: A HISTORY OF FOLK HORROR (2021). Kier-La is also the creator and origional curator of our Saturday Morning Cartoons!
Mike Peterson: Director, Producer
Michael Peterson is an award-winning producer and director from Calgary. He has directed commercials, documentaries, TV and the feature films, LLOYD THE CONQUEROR and KNUCKLEBALL. As a producer his recent credits include over a dozen feature films including Fantastic Fest 2020 Closing Night Film, BLOODTHIRSTY, and HARPOON, rated one of the top horror films of the decade on Rotten Tomatoes, and is currently in post-production on the next one, DARK NATURE. He began his career as a documentary filmmaker and his M.Arts from UNC-Chapel Hill included a final thesis on the theory and practice of documentary film. He has proudly had many films selected to play CUFF over the years.

Best Canadian Short
Jason Anderson: Short Cuts Programmer, TIFF & Programming Director for Aspen Shortsfest
Jason Anderson is a film programmer, journalist and lecturer who grew up in Calgary and is now based in Toronto. He is the programmer for the Short Cuts program at the Toronto International Film Festival and the programming director for Aspen Shortsfest. He also writes for such publications as Uncut, Sight & Sound and Cinema Scope.
Angie Driscoll: Senior International Programmer & Senior Shorts Programmer at Hot Docs
Angie Driscoll brings two decades of film programming expertise to her work as Senior International Programmer and Senior Shorts Programmer at Hot Docs. She has programmed for a variety of international film festivals including Aspen Shortsfest, Nordisk Panorama, the Toronto International Film Festival, the Canadian Film Centre's Worldwide Short Film Festival and the Toronto Urban Film Festival. She has curated films for Babelgum, the Sundance Film Festival, Reel Canada and the Prism Prize. She currently works with the Athena Film Festival and Palm Springs ShortFest in the United States, Midtnorsk Filmsenter and Minimalen Kortfilmfestival in Norway, and Magnetfilm in Germany.
Sean Pierce: Filmmaker
Sean Pierce is a filmmaker in Chicago, IL. His films have played at CUFF three times which he attended twice and had a lovely time at the Globe. In his spare time he enjoys making flatbreads with his wife, walking around an unfamiliar city, snuggling with his dog Tom Tom and tinkering with short films for several years before releasing them. He also enjoys programming for Cucalorus Film Festival.

48 HOUR JURY
Ashley Fester: Production Coordinator & Filmmaker
Ashley Fester is an Alberta-based filmmaker and production coordinator currently working on film & television as a member of DGC. Fester's first feature documentary was CELLULOID HORROR (CUFF selection 2004). Ashley has since made several short films including THE SPACE BETWEEN (2004), SOULMATE (2009, a 48Hour Film Contest Movie accepted to Cannes Short Film Corner), and most recently THE LAST BASTARD (2015), which was awarded Best Sound Design at the Alberta Film, Television and Media Awards, The Rosies. Ashley is currently working on set in Calgary.
Dave Lawrence: Actor & Filmmaker
Dave Lawrence is a Canadian actor, writer, director, editor and producer. He is the creator of the cult franchise FUBAR and is a veteran improv comedian of the Loose Moose Theatre in Calgary. His unique skills as a character improviser places his alter ego Terry Cahill at the top of Canada's funniest and most loved hosers list. Dave's films have premiered at Sundance and TIFF, more recently he is creating a spin- off series for The Trailer Park Boys.
James Shapiro: Executive Vice President, US Distribution XYZ Films
James Emanuel Shapiro is an entertainment executive veteran for twenty years and has been the COO of both Drafthouse Films and NEON where we helped build both distribution companies from the ground up. He's worked on several academy award campaigns including BULLHEAD, THE ACT OF KILLING, THE LOOK OF SILENCE and I, TONYA. He most recently started the analytics department and helped build the booking department at the Alamo Drafthouse. He's also active in the festival world having worked with both Fantastic Fest and Beyond Fest and he occasionally writes about the entertainment industry for Birth, Movies, Death and The Bulwark. He is an avid fan of sports, rye, New Wave films, Galaxie 500 and lives in Austin, Texas with his partner Deb and their many, many, many, many cats.
Josh Spicer: Filmmaker
Josh Spicer is a born and raised Calgarian, Art Director, Film Maker. His love for film started at an early age where he started crafting short horror films with friends on a busted camcorder. The passion for film making never left him, and since has turned that passion in to a number of award winning short films at CUFF and other film festivals.